Learn how to patch jeans inner thigh by hand, it is super easy to fix your ripped jeans.
The inner thigh/crotch area of jeans is subject to wear and tear, over time modern stretch denim can tear or develop holes. It is easy to apply a patch of similarly toned denim to the inside of your jeans to cover the hole and importantly strengthen the denim in the surrounding area.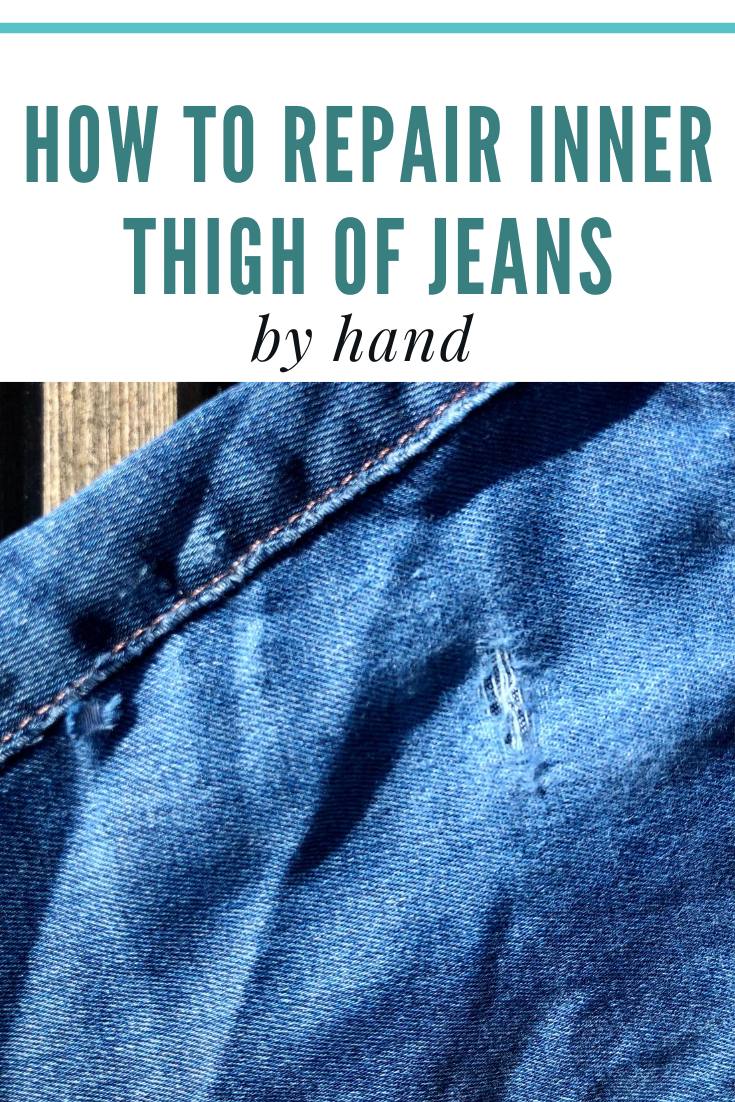 I was packing my bag Monday morning for a few days away camping, imagine my dismay to realize that one of my mere two pairs of jeans had developed a hole in the inner thigh. As the British summer is somewhat unpredictable, I just didn't feel I could take the risk and only pack one pair!! So I packed my jeans, along with a denim patch, thread, and needle.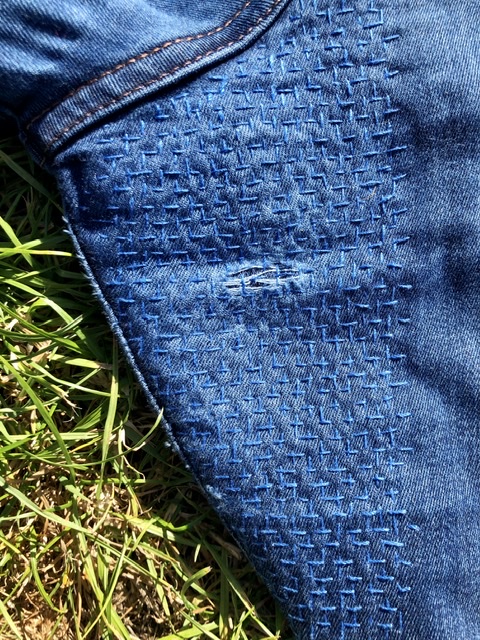 Can you see the repair?
When wearing the jeans the repair is not visible, unless you are looking for it! I asked my son to take pictures to share with you – he thought it a rather strange request!

What thread should I use to repair my jeans?
Traditionally boro repair technique uses sashiko thread. Alternatively you could use embroidery floss, button thread, or standard sewing machine thread (I would opt to double sewing machine thread for strength). I love to use materials I have to hand so personally I am using Jean Stitch thread I found in a thrift store.
As I am repairing the inner thigh I am choosing a thread to closely match the colour of the denim.
How to fix ripped jeans inner thigh by hand
Materials
Denim patch of smilarly toned denim
Thread
Instructions
Cut your denim patch. The patch needs to be a minimum of a good inch wider than the hole. As my jeans has two holes I have cut a large patch to cover the whole weakened area. My patch curves along the crotch seam.
Place the patch inside the jeans. You may have a bit of rippling from your ripped jeans due to the stretch in many jeans nowadays, lay it out as flat as possible. Pin in place, alternatively you can hold in place with glue, for instance a glue stick.
Thread your needle, tie a knot on the end. Using a running stitch, stitch down the middle of your patch. To stitch running stitch bring your needle through to the front of the fabric, insert back into the fabric the length of your stitch and pull through. Insert back to the front of the fabric and continue. I like to load my needle with 3- 5 stitches at once.
Continue with your running stitch until you covered your whole patch.
Lastly stich horizontal lines across the same area.
If you decide your Jean's cannot be repaired any further please don't throw them away, checkout my 30+ ideas for what to do with old jeans.
British weather being as it is I'm grateful for two functioning pairs of jeans!!