Introducing the Ellory Bag by Cozy Nest Design. One of the reasons I enjoy pattern testing is that I stretch my skills, this bag sure did.
It was one of those occasions when I just made silly error after silly error. I started off feeling chuffed. As suggested I marked out the pattern pieces on the interfacing, all ready to iron onto the fabric and then cut out in one go. Often the cutting out stage can take as long as sewing up of a bag design so this can be a real time saver. Only to realise that I had measured out on sew in interfacing, hurray for spray adhesive!!
Next error was to sew the handle tabs to the wrong end of the bag panels, easily solved with the seam unpicker.. And so it went on, but the end result was worth it!!
The pattern is well written with clear diagrams. However due to the bags form it is not an easy sew, I had to coax the bag through the sewing machine. Sewing piping onto the edge of a zip was not as bad as I feared! However my piping is far from perfect.
This bag really holds its shape, I used Annies Soft and Stable (a bit of a luxury I admit) but it does give the bag form.
Initially I used my clover clips but decided not to be cautious and tack the seam before sewing, I was glad I did.
For the make I used a curtain sample (£3), contrast fabric (£6), cotton sheet (stash), five zips (£7 from the market), hardware reused, piping (stash)..
The finished bag has side pockets both sides, and a main compartment.
I was not initially sure what I thought of the shape, but it has grown on me. It is a great project bag, happily holding knitting needles and yarn. Other pattern testers have made them as lunch bags, personally I don't eat that much for lunch!
If you are familiar with sewing bags then Cozy Nest Designs takes your skills up a notch, with clever designs requiring an experienced sewer.

Related posts:
Whats not to love about the thrill of children doing an Easter egg hunt? Here's a great variety of Eco & Recycled Easter Baskets you can make:
Brown paper bag converted into this super cute basket. Find the tutorial over at ellinee.
Upcycled milk carton Easter Basket – I love this. Great instructions from Red Ted Art.
Too many plastic bags despite your best efforts?? Weave a basket. Thanks to luckyladybirdcraft.
Of course I have to include a basket you can make with newspaper – love this from jenniferperkins.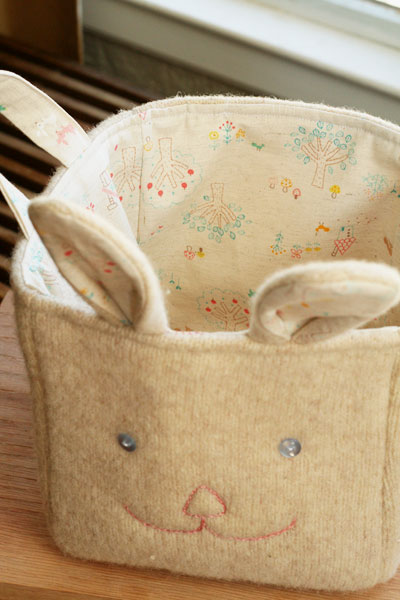 And naturally a recycled sweater basket too, thanks to triedandtrueblog.
Wrap piping with fabric scraps, and stitch together (reminds me of making clay coilpots) – tutorial at modabakeshop.
Which eco recycled easter basket are you tempted to make? Personally wishing we had brighter plastic bags for the plastic bag basket.

Related posts: