I love sewing for friends and family, when it involves creativity (shortening trousers is not quite so interesting!). A recent whats app conversation with my sister – in -law led to the plan to sew her a door stop. The family live in Amsterdam, in a property they purchased in 2016. I am yet to visit (but its booked, yeah) I thought it would be fun to make the doorstop to represent their property. My Mum kindly supplied me with a photograph so the doorstop design could be a surprise.
This is the property.. not quite a super tall lovely pastel coloured property I was imagining. A little artistic license led to me omitting the balcony's.
If you would like to make your own doorstop you will need:
Two main panels 10 by 8″
Two side panels 10 by 5 1/2″
Roof 8 by 5 1/2″
Two pieces 8 by 3″
Zip 8″ long
Handle 8 by 6″
Bondaweb
Fabric scraps for windows and doors
Ribbon
Strong interfacing or Annies Soft and Stable (you will notice all my photographs do not have this, I realised at the end it was needed!)
Apply interfacing or Annies Soft and stable to sides, front and back panel's and roof. Start by sewing the side panels to the front panel. This is to enable you to pattern match if required.
Fold the handle in half lengthways, right sides together, and press. Stitch along the length to create a tube.
Turn right sides out, press then top stitch along both long edges. Place along the middle of the roof and baste into place at each end.
Lets sew the zip in next. Turn an press 1/4 along the long edge for both pieces. Place along the zip and pin in place. Stitch to secure.
Now for the fun part – personalising your doorstop. I have worked from the photograph taking measurements to ensure the proportions of the windows and door are in roughly correct.
The door measures 2 3/4 by 2″, with the window highlight above the door measuring 3/4″ by 2″.
The large windows are 2″ square and the small windows 1 1/2″ square.
Use bondaweb to adhere the window and door pieces to the front panel. Having a pattern on the base fabric helped me keep the pieces straight when positioning.
Place ribbon to represent the door frames. I suggest using a glue stick to hold the ribbon in place allowing you to neatly top stitch to secure.
Lastly sew the doorstop together. Place right sides together, sewing in the roof, adding the back panel and then finally the base. As you sew in the base ensure the zip is partially undone so you can turn right sides out.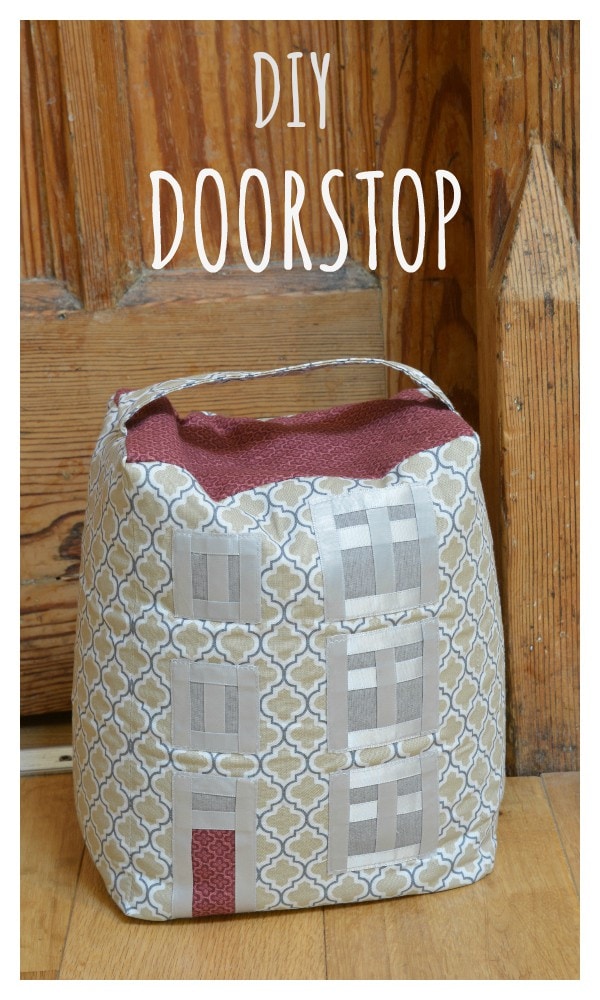 Fill with lentils or rice – it will take quite a few!!

Related posts:
My husband and I chose not to give each other gifts this year, but he surprised me and brought me this rather large collection of old keys. My kind of present..
New Years Day was rather wet and miserable, whilst I had a nap Jared and the children had great fun creating animals for the keys. I love the animals… No searching Pinterest for upcycling old key ideas for them, they just got stuck in and had fun.
Such creativity.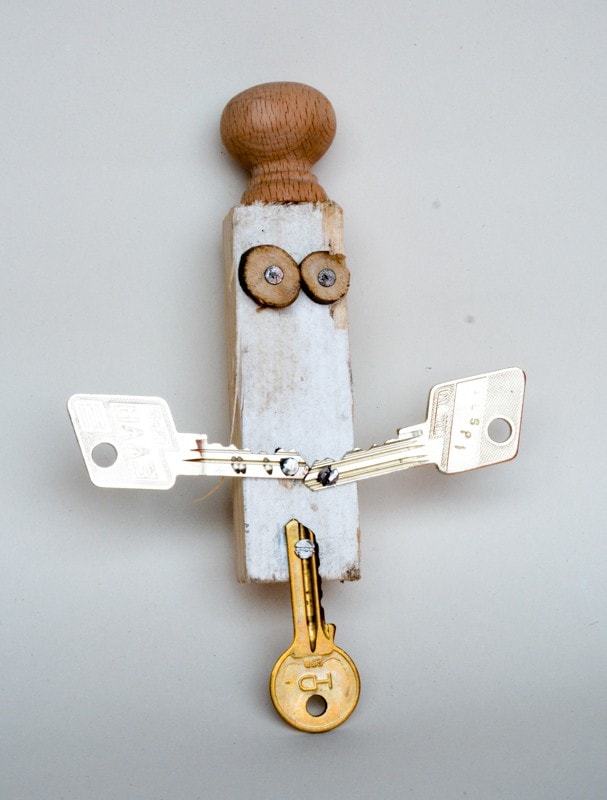 My thoughts wandered to wall art – layering the keys up to create snowflakes. Along the way I did wonder whether a more abstract piece was more my style..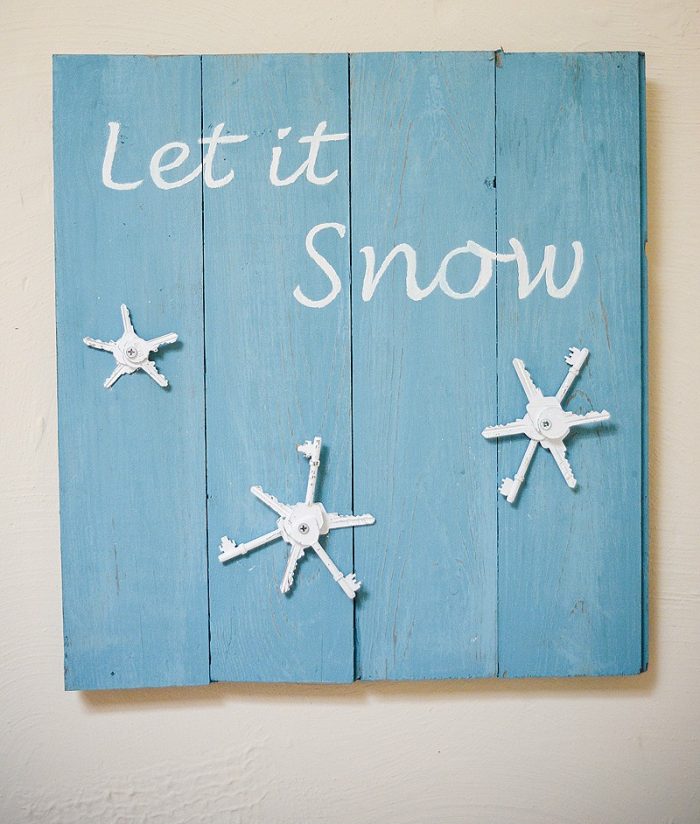 If you would like to make the snowflake wall art "let it snow" you will need wood to create the plack, background blue paint, keys and white spray, a printer, chalk and white paint.
Start be creating the wood base. Cut pieces of wood to create a plack measuring. I have used old wood cutting five pieces long.
Use wood glue to glue them together. Once this is dry place a piece of wood across the back as battoning. Screw into place.
Paint the wood blue – I have used Rustoleum. It is no secret I love chalk paint, it's great that I don't need to wait for any primer to dry! Once dry you may wish to lightly sand to reveal the grain of the wood, adding a little texture.
Spray the keys white.
I used Novasol Spray White chalk paint, as this is what I had. It covered well, and dries within fifteen minutes. However it has chipped on the keys – personally I like this effect. Spray both sides.
Next print off the words in a font you like. Using the technique often taught in school rub the back of the paper in chalk. Place the text right side up on the wood. Using a ball paint drawer round the outline of the words. When you lift the paper up the chalk has transferred to the wood to create a guide for handpainting the letters.
Paint the letters in.
Lastly drill a small hole in the wood for the center of each snowflake. Screw the keys in place with long screws.
I have to admit that I prefer my husbands and children's key animals. We have lots of keys left, what would you make??

Related posts:
The holiday season is over, the weekend was lovely. We stretched the season out with a trip to the pantomime plus my daughters birthday celebrations. But its time to get the house straight. I don't know about you but I have an urge to clean and tidy the house – to get organized. Is it something about January? The excess of Christmas?
Here are some great items to sew, to add a touch of organization to your home – anything to make organization more appealing (I'm inherently untidy!)
Cable roll – tidy up all your loose cables with this handy cable organizer. Find the tutorial here.
Knitting needle case – tidy up your knitting needle cases with this handy knitting needle case, perfect for your crochet hooks too. Find the instructions here.
Bunk bed bag – do your children have bunk beds? Organise them with bunk bed organizer. Several pockets for torch, drinks bottle, book, or tablet. The tutorial can be found here.
DIY Childrens Book case – not quite sewing but it does involve fabric…! I love this idea from Get Your Crap Together
Fabric baskets – these are just beautiful from Tea and a Sewing Machine
And of course I just have to include a upcycled denim project – I love this Denim Pocket Wall Organiser from Pillar Box Blue, a new to me blog. Do check it out, its so inspiring.
Do you have a favourite fabric based organisational tool??

Related posts: