We may earn money or products from the companies mentioned in this post.
Are you still trimming up? We finished yesterday – the final touched an upcycled pallet Christmas tree for the front porch. Our porch is often neglected, and not very welcoming. I was determined to give it a little personality for the Christmas season. We have an old pallet waiting to be transformed, so this is the ideal opportunity.
DIY Upcycled Pallet Christmas Tree
Start by sanding then painting it white with Rustoleum chalk paint. Once dry sand to bring back some of the wood.
Next have a consultation period as to whether to have the tree white or green, our consensus decided on a white tree. Create a tree shape out of newspaper to act as a mask.
Using temporary craft spray glue place the paper tree onto the pallet. Spray painted the surround with green paint (left over from the round cake tins I created earlier in the year), and once dry carefully removed the paper mask.
The green paint I used has a gloss finish which contrasts with the chalk paint, to remove some of the sheen I did a further quick sand.
The project was super quick and easy to do, all that is required is some decorations.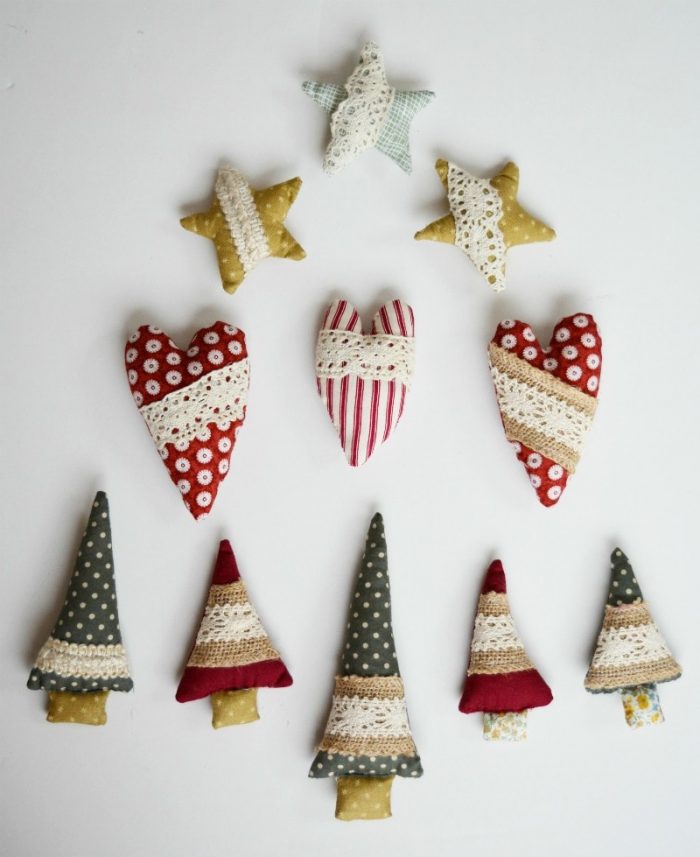 I made some rustic fabric decorations to compliment the wood and hung on nails.
Check out this great round up post full of fabulous pallet inspiration from designrulz.
Why not pin the post for later.
If you would love to see how the decorations are made there is a tutorial here.
If you would like top tips for working with chalk paint PDF sign up to my newsletter for access to my free resource library.