How to make an emery pincushion
October 5, 2015
I have been wondering for some time why my pins no longer felt sharp… and eventually my mind came round to the fact if my scissors become blunt so will my pins and needles!!
So I have been on a research mission, to my delight I have discovered emery for pincushions. I had never heard of it before. It is a little like sandpaper but as sand, a fine powder.
Inevitably I had to try it out, and whilst I was at it make a super cute emery pincushion. Naturally I turned to my scrap box and decided to have a go at some random quilting.
Emery Pincushion Tutorial
Cut out random shapes, I used three fabrics cutting out four pieces from each.  Sew two pieces of fabric together, and then press.
Sew on your third fabric. Create four applique squares measuring 1 1/2″.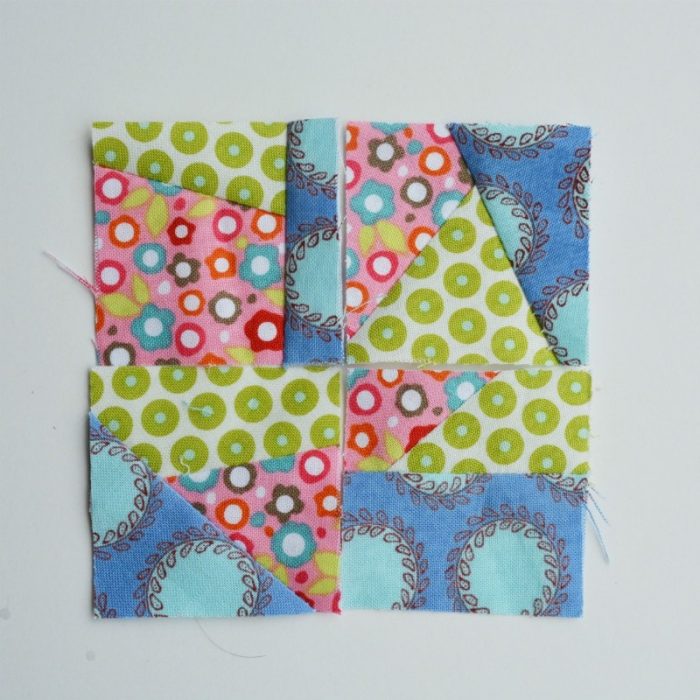 Sew your squares together to make one larger square. Cut out the base of your pin cushion 2 1/2″ square. Place right sides together, stitch three sides together. Turn right side out and press seam allowance in on the open edge.
Next create a sack of emery to place inside the pin cushion at the top. Cut out two pieces of fabric 2 1/4″, sew four sides together leaving a small opening to add your emery. Fill with emery.
Hand stitch this seam up. Zig zag your seam allowances.
Insert your emery sack into the pin cushion. Fill up underneath with some polyester filler.
Finally hand stitch up your open seam, and add a button on the centre of the top of the pin cushion.
I'm looking forward to sharp pins!! Fancy more scrap fabric projects? check out my pinterest board for further ideas, especially if you are like me you cannot stand sending fabric to landfill. Would love to know how to sharpen your scissors? I've tested three different methods for So Sew Easy here.

A passion for sewing, upcycling and caring for the environment - the perfect excuse to haunt charity shops for bargains!