Do you follow Makery? Are you aware of Portia's fabulous refashioning competition she hosts each August/September? This year the theme is refashioning denim trousers. It is all about having fun, trying something new, having a go. I don't think for a minute I will win but I will have lots of fun trying. I have made a sashiko denim bag.
Last year the theme was shirts, I made my niece an upcycled shirts dress.
The standard was extremely high with some amazing transformations – see the pinterest board. It is truly amazing what can be made from shirts.
I have a hunch that a tailored fitted garment will win this year. But I have to play to my strengths – upcycled bags. For a while, I have thought about creating a sashiko denim bag. I have lots of denim trouser off cuts in my stash left over from making this denim quilt.
The summer holidays are great but they do limit sewing time, not ideal for sewing never mind lots of hand stitching. Normally I pack knitting when away as it is super easy to fit in my bag. This year we went camping, I took my bag of denim scraps, a pile of embroidery floss from a charity shop and offcuts from the Tilda fabric projects.
I enjoyed being creative in our tent – I'm not sure the kids appreciated the camping table being covered in fabric.

If you would like top tips for sewing bags guide plus a free PDF of the tutorial sign up to my newsletter (includes yet more resources!)
Sign up for the newsletter for top hints and tip sheets, plus PDF of the most popular bag patterns.
Sashiko Denim Bag Tutorial
This post contains Amazon affiliate links for your convenience. Click here to see my disclosure policy.
RECOMMENDED SUPPLIES:
Variety of Denim
Embroidery Thread
Cotton Scraps
Cotton fabric for lining
Annies Soft and Stable Two pieces 42 by 46 cm
Heavyweight Interfacing, two pieces 42 by 46 cm
Leather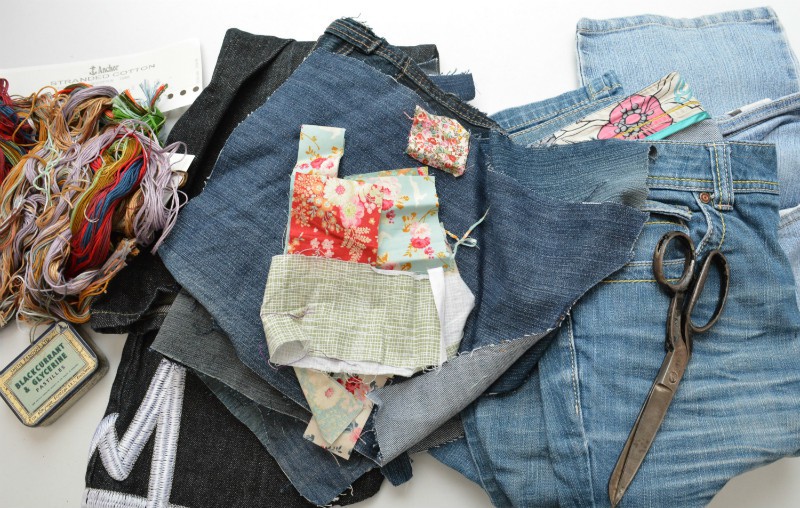 To make:
Lay out pieces of denim and cotton patched in a design pleasing to the eye. Ensure your patchwork design is slightly bigger than 42 by 46 cm.
Hand stitch with running stitch. Be creative. Think about the direction of your stitches. The majority of my stitching runs horizontally, however, I have emphasised the cotton patches with circular stitching or vertical stitching.
Repeat for the second side of the bag.
Don't be afraid to change your mind about thread colour choice or direction of stitching. If you follow me on Instagram you will see that I changed the colour of the top right hand section.
Once you have completed your two sides use some craft glue spray to adhere the Annies Soft and Stable to the wrong side of each piece.
Stitch round the sides and the base. Ensure your seam is a centimetre in from the edge of your Soft and Stable to fully secure it in place.
Box the corners. To do this pull the bottom seam to meet the side seam and pin to hold. Using a quilting ruler mark a stitch line at right angles to your base. I created the base of the bag as 18cm wide, 9 cm either side of the bottom seam.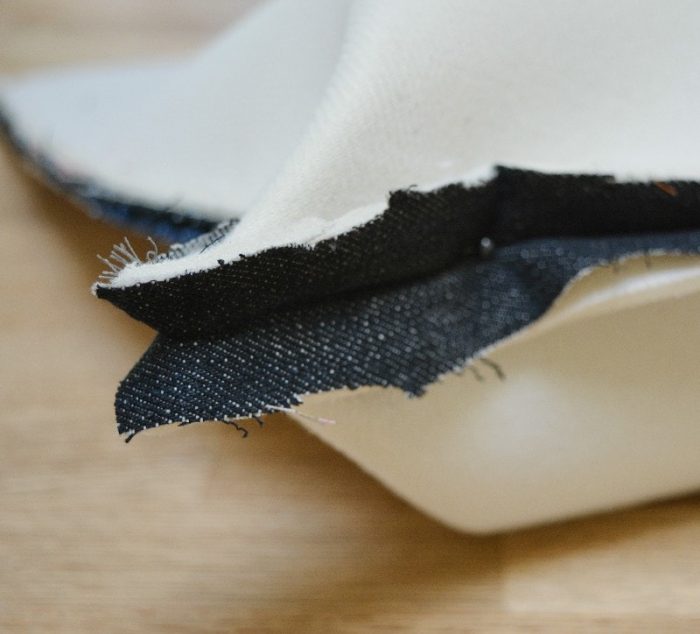 Trim this seam.
This is the main body of the bag finished.
Next, you are going to make the lining. Iron the heavyweight interfacing to the back of the lining fabric. Prep two slip pockets, 17 by 16cm. Cut fabric. Turn over twice the top of the pocket and stitch. Fold and press twice the sides and bottom.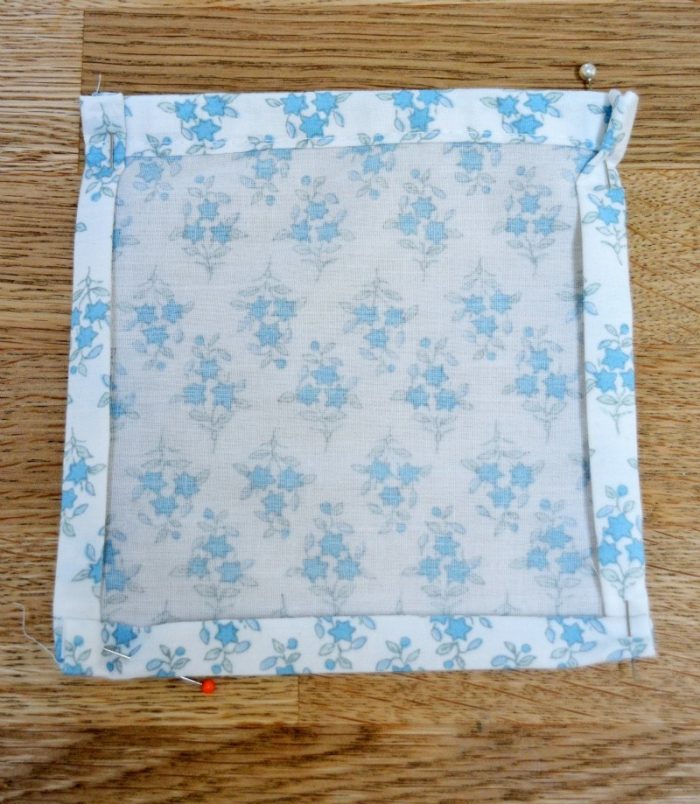 Pin centrally on your lining approximately 8cm down from the top of the bag, then stitch.
Insert a magnetic snap, centrally 6cm from the top.
Follow steps as for main bag – Stitch the side seams and along the bottom. Ensure you leave a gap for turning out along the bottom seam (I forgot and had to unpick!). Box the corners.
Place the lining inside the denim outer bag so the right sides are together. Pin into place and then stitch along the top.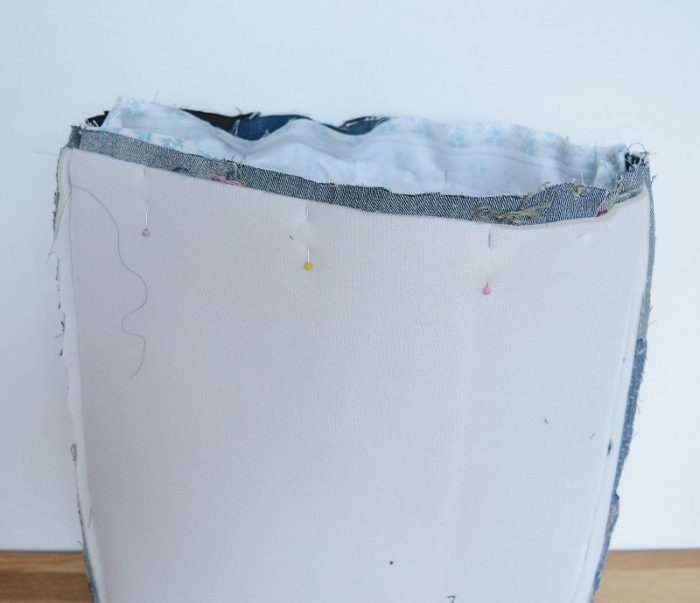 Turn through. Slip stitch the opening in the base seam of the lining.
Top stitch the top of the bag, this will secure the lining and main bag together and strengthen the opening of the bag.
Cut out leather straps measuring 79 cm by 2.5cm.
Place on the bag and hold in place with clover clips. Punch two holes per strap with a hole punch and secure the straps in place with cap rivets.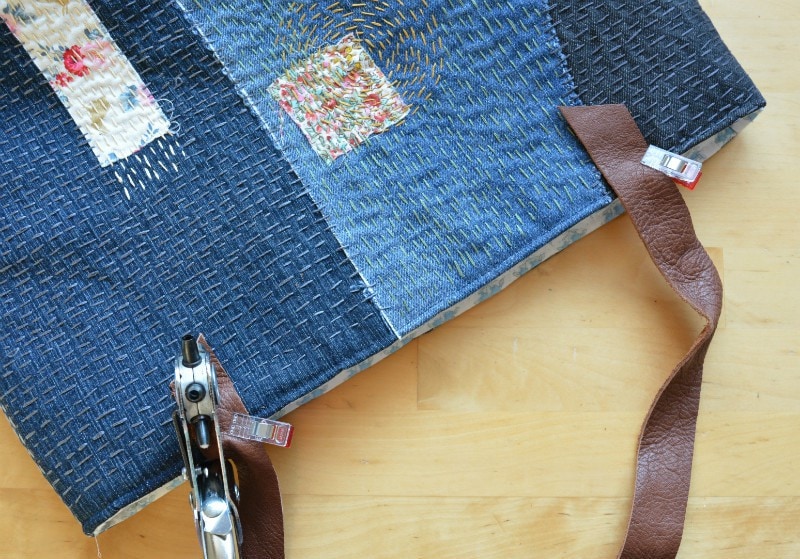 For a tutorial on using cap rivets visit U-Handbag here.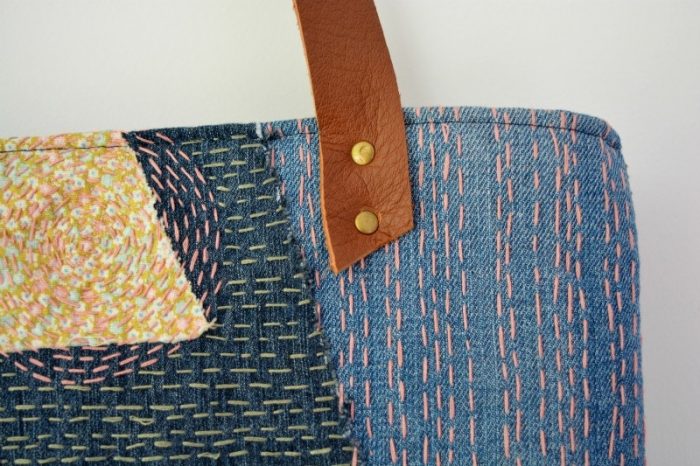 I LOVE my new bag, there is one for sale in my Etsy shop.
Try this crossbody sashiko bag too! Or how about this super cute sashiko coin purse, you easily make one to match your new tote.
Don't forget to sign up to my resource library, through the newsletter. There are several free PDF bag patterns for you to enjoy.

>
This post is linked up here: