Super Easy DIY Denim Rag Quilt
June 23, 2015
Do you collect old worn out jeans? Do you wonder what to make with them? They are a great source of hard wearing versatile fabric. I always have a stash, gratefully receiving any donations!

A denim rag quilt is perfect for anyone wishing to tackle a large denim stash. Its a great project for those considering making a quilt for the first time. You don't need to be a precise sewer or spends hours cutting out (as you can tell these are the aspects which put me off making a standard quilt!!).
We are fortunate to have a spare bedroom, with none of our family local the room is used by regular visiting parents doting on their grandkids. The room is rather bland, ready to serve its function. It needs a touch of personality, preferably some upcycling.
I took inspiration from some beautiful denim quilts online. A denim rag quilt deals with my bulky denim stash, and is relatively quick and easy:)
DIY Denim Rag Quilt
RECOMMENDED SUPPLIES:
lots of denim jeans
lining (I used old pillowcases)
scissors
sewing machine
Trim your denim, removing all zips, waistbands. Make a decision re pockets, you may like to keep them as a feature or remove them. I removed them for ease of sewing.
You will be making panels of quilted denim, and then sewing the panels together. Decide on the size of quilt
Cut denim into rough sizes for your panels. My finished panels measure between 10-17″ and 104″ long. These were trimmed to size once sewn.
Layout your pieces in order to choose which denim you like next to each other. Pile up in the order you would like to sew them.
Next, think about your lining, you will be adding your lining as you sew. I used different pillowcases, using the width of the pillowcase as my size guide for the width of the panels.
To sew your first two pieces of denim trim your denim to provide a straight line down the grain (this is often easier to see on the back of the fabric).
Lay down the first piece of denim right side to the table, next lay your lining right side up, then your second piece of lining right side towards the table, and lastly your second piece of denim right side facing you. Stitch a seam 1 cm wide.
Trim the pillowcase lining to the width of the denim panel.
Lay your next piece of lining and denim on the second side of the denim (as previously) and stitch. Continue until your panel is as long as you require.
Trim the panel into a long rectangle, I used the edge of the rug for the first side and a large book as a guide for trimming the width of the panel. Pin each seam to stop it coming apart. Stitch along the long sides to hold these seams together, 1cm in. Remove pins.
Create as many panels as you need.
To make the ragged frayed edges cut into the seam allowance every centimetre. Be very careful not to cut into the stitched line. If you accidentally do restitch. It is easier to do this now as there is less bulk.
Once you have cut into each seam allowance layout your denim panels and choose the order you like them in.
Stitch together along your 1cm stitched lines so the seam is on the right side of the quilt. Cut into the seam allowance to create fraying.
You are nearly there, sew around the edge of the quilt 1cm in, then cut into this 1cm seam allowance to create the fraying.
Lastly wash, then wash and wash again. Each time you wash the quilt the seams will fray a little more.
Hang out to dry.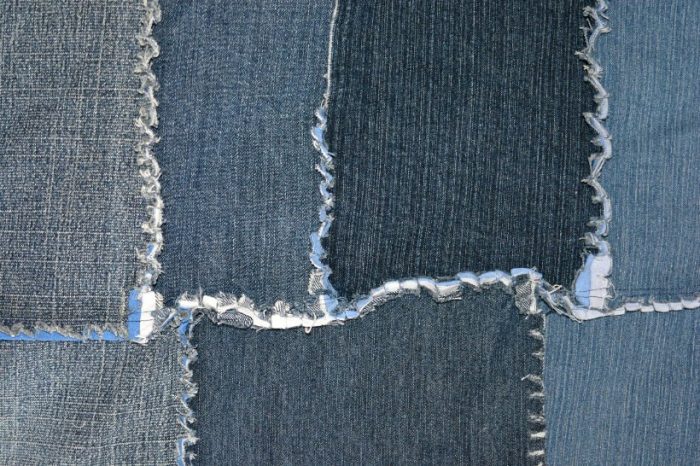 I love the texture of denim. A surprise is the weight of the quilt, I love the lying under it (the weight is heavier than anticipated). What is your favourite upcycled denim project? There are plenty more ideas on my recycled denim pinterest board.
If you love working with old jeans sign up to my newsletter for access to my free resource library, which include PDF patterns for various denim bags.

A passion for sewing, upcycling and caring for the environment - the perfect excuse to haunt charity shops for bargains!