I am delighted to be taking part in the Thrifty Baby blog hop organised by Dana at Sewthrifty. This is perfect timing as my sister-in-law is due with baby number two this month. For the first baby I made her a changing bag and taggies. After consultation with Emily we agreed a baby changing mat would be most useful.
This baby changing mat is sewn with cotton, with wadding on the inside to add a little cushioning for baby's bottom. It is easy to throw in the washing machine to freshen up. If you prefer you can make the changing mat use a laminated fabric.
Personally I am rather passionate about bag making – if you are new to bag making I have the perfect Beginners Bag Making Course for you which covers so many essential skills for bag making, and includes many free bag tutorials.
RECOMMENDED SUPPLIES:
Two pieces of fabric 14 by 35″
Wadding
One piece of fabric for the pocket 16 by 9″
One piece of fabric 1.5 by 3 inches for rouleau loop
Bias binding
Elastic 16″
Button
Prepare fabric
Cut out your fabric. Trim the top corners of your changing mat. Mark 2.5″ along the top and down the side, cut from one point to the other.
Create pocket
Fold your bias binding in half and finger crease the centre line. Place the bias binding over and encasing the raw edge of the top of the pocket. Enclose the elastic inside the bias binding along the top. See picture. Pin in place, then stitch.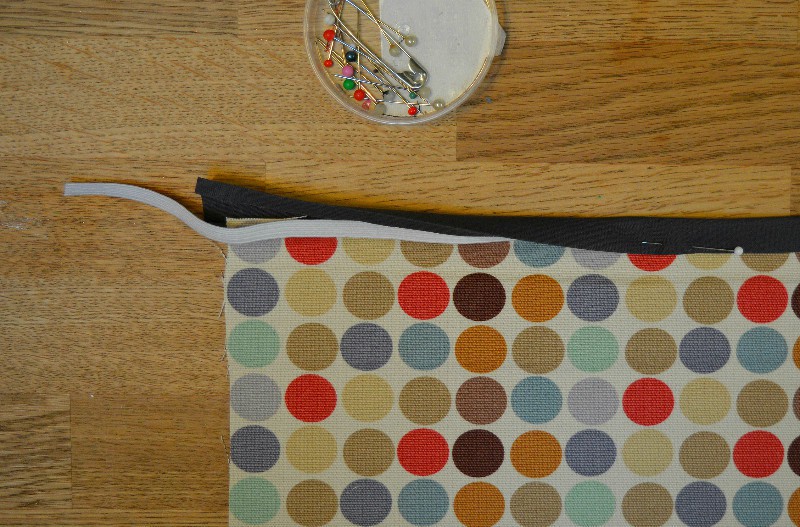 Place the pocket so the bottom edge matches the bottom edge of the changing bag. Stitch down the centre of the pocket to create one pocket for the nappies and one for the wipes.
Pin the side of the pocket to match the side of the mat. Pull the elastic so that the top of the pocket lies flat against the mat. Put in two pleats along the bottom so the bottom of the pocket lies flat against the mat.
Stay stitch to secure in place. Repeat for the second pocket.
Create rouleau loop for the button closure. Fold long raw edges in to meet in the middle, and then fold in half again. Your raw edges are now enclosed.
Stitch to secure.
Pin bias binding to the right side. Stitch in the fold all round.
Fold the bias binding over to the wrong side. Pin along the edge of the bias binding from the front, ensure your pins capture the bias binding on the reverse.
Place your rouleau loop in the centre of the top seam, esuring the raw edges are caught inside the bias binding.
Stitch in the ditch.
Lastly fold your changing mat up and sew your button on.
What's your favourite thrifty sewing for a baby? Do visit Sew Thrifty to see some great thrifty ideas.
$('.ml-subscribe-form-5692827 .ml-block-success').show(); $('.ml-subscribe-form-5692827 .ml-block-form').hide(); };