This Baby Rag Quilt is beautiful, stunning cotton prints framed with a frayed ruffle edge. This tutorial for the easy sew baby rag quilt includes a video. The quilt is quick to make, lovely and soft and perfect for a newbie quilter – it is super easy to make.
I have been meaning to make this quilt for some time. This week we have had a treat, a baby staying, the perfect prompt to make the quilt. Emma is a true cutie, enjoying lots of tummy time she is almost crawling. Baby rag quilts make great homemade gifts for baby showers. Plus they are perfect for using up fabric scraps.

It's fair to say I am not a natural quilter – I am just not quite precise enough to get the matching neat corners in a regular quilt. So making a rag quilt is perfect for my skill level, anyone can make a rag quilt. Rag quilts are very forgiving, no one will notice if your stitch line is not quite straight!
But firstly are rag quilts safe for babies? Rag quilts make great quilts for tummy time but like all loose blankets is not suitable for a cot.
What size to make?? This finished rag quilt is definitely on the small side at a finished size of 27 by 31″. Here is a great quilt chart advising numbers of squares required for several sizes of quilts. This is a fabulous resource as it includes options for squares ranging from 4″-7″ in size.
How long will it take you to make this baby rag quilt? This quilt took me three and a half hours. You can easily make the quilt to suit you – my quilt is made from 5″ squares as I was fortunate to be given a few precut squares. But to speed your quilt up you can change the size, swap to 8″ for instance. The other major factor in relation to how long it will take you to make this quilt is whether you cut out with scissors or with a rotary cutter. With a rotary cutter, you can cut through 3-4 layers of fabric in one go, this definitely speeds the process up.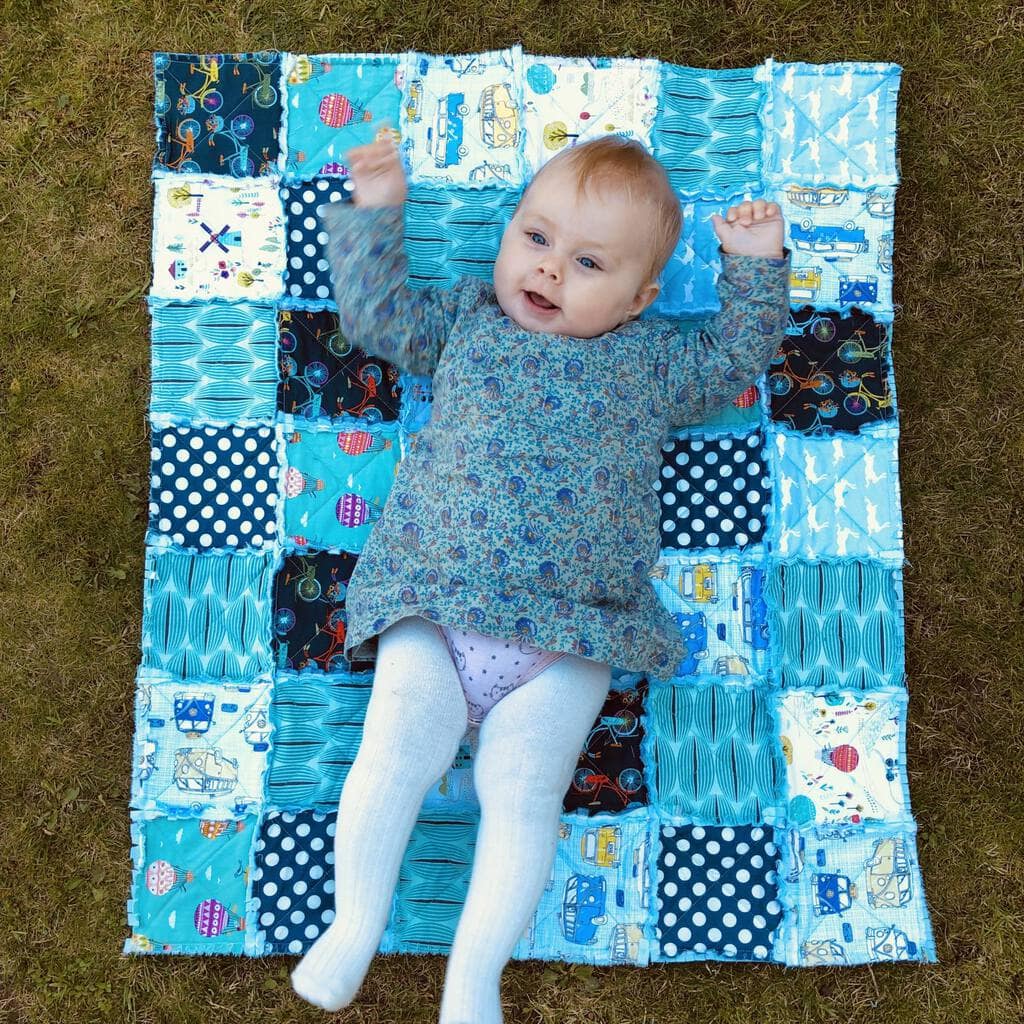 What fabric do you need for a rag quilt?
It is easiest to use a woven fabric so as not to have to deal with stretchy fabric. I have used quilting cotton for the top, a batting fabric for the middle, and an old sheet for the back. Cotton frays the best.
Do you love making quilts? If you love working with preloved fabrics check out my denim rag quilt – it looks fantastic across our bed. Alternatively, try your hand at dying an old duvet cover to make a shibori inspired quilt.
How to make a baby rag quilt with cotton fabric
This post contains Amazon affiliate links for your convenience. Click here to see my disclosure policy.
RECOMMENDED SUPPLIES:
Cotton fabric
Batting
Rotary cutter and cutting mat, quilters ruler
Scissors (ideally spring-loaded ideally)
Taylors Chalk
This finished quilt measures 27″ by 31″ and is made up of 42 5″squares.
Cut out 42 squares for the front, 42 squares for the back and 42 4 1/2″ squares of batting. I found using a rotary cutter a quick process as I could cut through several layers of fabric together.
The next step is to make a battening sandwich – first lay your lining wrong side facing you, then the batting, then the top fabric right side facing you. Pin.
With taylors chalk and a quilting ruler mark diagonally across the square – this is your stitching line to quilt the three layers together. Stitch diagonally across each sandwich of fabric, if you have a walking foot it is helpful as it pulls the fabric through the machine equally from the top and bottom.
Now the fun bit, laying out your fabric squares to design your random rag quilt. Mix the designs up – I have not worried about the patterns all being the same direction and am happy with this – but this is pure preference.
Once you have the design settled place two pieces lining sides together. Stitch along, I have used a 1/4″ seam allowance but you may prefer a deeper seam allowance for greater depth of frayed edges. Sew panels, then sew the panels together.
Once you have sewn all your squares together stitch all around the edge of the quilt, choosing the seam allowance. Snip into the seam allowances being careful not to cut into any stitches of the seams. Snip approximately every 1/4″, this helps create the frayed effect. Spring-loaded scissors make this task easier – I don't have any so took little breaks.
Lastly machine wash, each time you wash your baby rag quilt it sill fray a little more.
How to make a denim rag quilt
Prep Time 3 hours

Active Time 1 day

Total Time 1 day 3 hours

Difficulty easy
Materials
LOTS of pairs of denim trousers
Old sheets to use as lining fabric
Sewing thread
Tools
Spring loaded scissors
Walking foot
Denim sewing machine needle
Recommended Products
As an Amazon Associate and member of other affiliate programs, I earn from qualifying purchases.