Update your home with this gorgeous embroidered cushion cover. This tutorial will take your envelope cushion cover up to the next level with hand embroidered trees, perfect for snuggling up and enjoying the long winter evenings.
If you follow me on Instagram you will have seen me sharing pictures of the cushion in the making. The trees are inspired by a T towel I saw on a visit to Anthropologie on the run-up to Christmas.

DIY embroidered cushion cover
RECOMMENDED SUPPLIES:
Old sweater
Cotton fabric for the back- two pieces 17″ by 14″
Embroidery threads
Scissors
Sewing machine
Cushion filler 16″
Let's start by cutting out a square 17″ sides from the old sweater. If you have a large sweater you may wish to felt it in the washing machine first – my sweater was not big enough, as this process shrinks the wool.
Now it time to have fun embroidering a variety of tree designs. These are much easier than you may think. Each design is united with the same stitching for the tree trunks, three black vertical stitches at the base of the trees. The mustard trees are simple lines of stitching, gradually narrowing row by row into a tall triangular shape.
The pink trees are blocks of the horizontal lines, these are then gathered with one vertical stitch to draw each block of lines together.
The green trees are twelve vertical stitches, which are then gathered in blocks of three with a vertical stitch.
The blue trees are simple stitches from a central spine.
Once you have completed your embroidery it is time to make the back of the cushion. Fold over twice one long edge of each of your back rectangles and press. Stitch.
Place the two rectangles right side up, overlapping to create a 17″ square. this forms the envelope opening of your cushion.
Place your embroidered sweater piece on top, wrong side up (so the right sides are facing each other). Stitch around the cushion cover with a 1/2″ seam allowance.
Turn right side out and insert your cushion.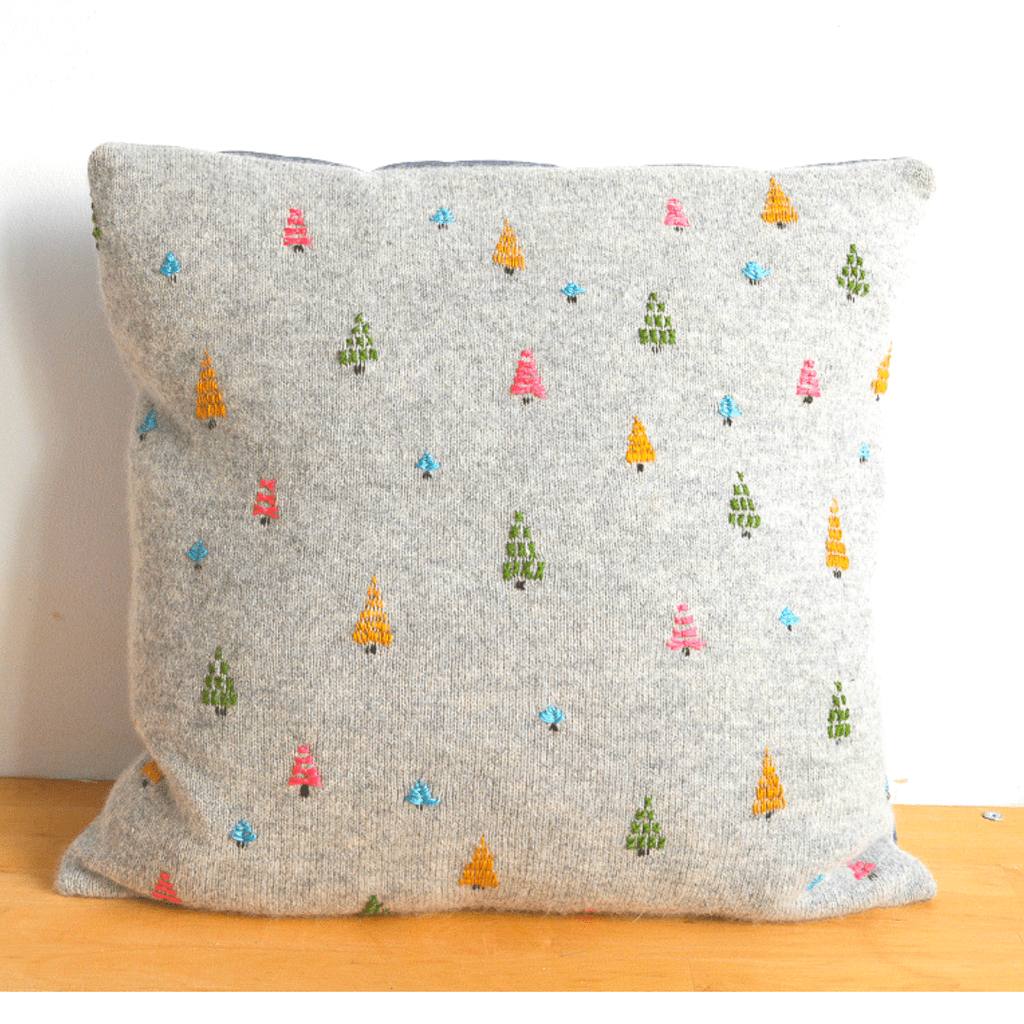 If you love upcycling former clothes as much as I check out my denim waistband cushion or denim chevron cushion.