Remember the large box of keys my husband brought home for me to upcycle?? It prompted some thoughts about keys, the symbolism of our homes. If we are fortunate our home can mean so much; warmth, stability, security.
I thought it would be fun to create a picture of former childhood homes brought together to our married home (especially with Valentines coming up).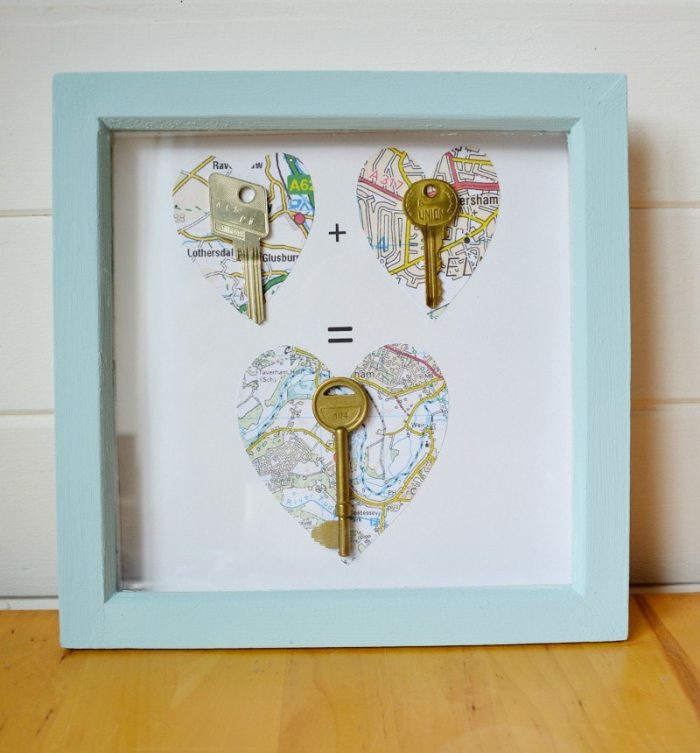 RECOMMENDED SUPPLIES:
Keys
Copydex
Chalk Paint (optional)
Printer
If you would like to make map heart picture for Valentines (engagement, wedding gift etc) you will need a printer, keys, and a box frame.
Start by searching for free maps on line (in the UK you can use Maps4free). Enter the location. Using the snipping tool highlight the area you wish and copy onto a word document, repeat for the second two locations. I copied snippets across which filled approximately half the word document per image. Print off the map for the three locations.
Cut out three hearts, the first two of the former homes being the identical size the third a little larger. Mine measure approximately. You can download a template here.
Print two templates. Use one as a guide to cut out your hearts (I suggest cutting slightly larger), place on top of your outline shapes and adhere with a glue stick.
Using copydex place a key on each map (this covers the red 'you are here' marker from Maps4free). Allow to fully dry, trim to size and frame in a box frame.