How could I resist the request for unicorn wings to match the most beautiful spirited five-year-old in her unicorn like dress?!! A quick search of Pinterest brought up very few results – time to come up with my own design. I found some sparkly fabric at my local sewing shop to inspire my make plus super thick iron-on interfacing, my plan to avoid adding wire to create shape. I would hate to make a set of unicorn wings which could cause an accident.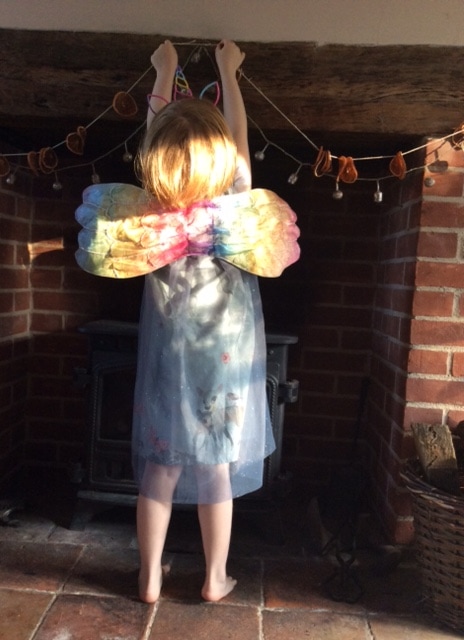 If you love making dress up clothes then check out my super easy DIY cape.
Sign up to my fortnightly newsletter to receive updates of whats on the blog, plus access to my resource library with many free PDF bag patterns.
DIY Unicorn Wings
RECOMMENDED SUPPLIES:
Sparkly heavyweight fabric
Heavyweight iron on interfacing
Tailors Chalk
Sparkly fabric
Needle & embroidery thread
Scissors
3/4″ wide elastic
Iron strong interfacing onto the back of your sparkly fabric.
Sketch out wings with tailors chalk onto your base sparkly fabric.
Cut out shimmery transparent rainbow coloured fabric wider than your wings. Run two sets of gathering stitches parallel to each other (approx 2″ apart). Place your gathered fabric centrally down the spine of your wings.
Pin out the gathered fabric.
Starting from the centre hand stitch the outline of your feathers with chain stitch. I used a thread which is thicker than a standard sewing thread but thinner than embroidery floss. the chain stitch gives definition to your feathers. Ease the fabric out as you sew the feathers giving a three-dimensional effect.
Once you have sewn all the feather outlines it is time to line the wings. Either machine stitch, with no thread, the outline of all the unicorn wings, alternatively, trim the edge of your Unicorn wings to a neat 5/8 inch all round to provide a seam allowance. Either of these techniques gives you a guide to follow on the wrong side of the fabric.
Place right sides together for the lining and the front of the Unicorn wings. Machine stitch together, leaving a 4″ turning gap.
Cut into the seam allowance close to but do not cut into the line of stitching.
Turn right sides out, then carefully top stitch all around the edge of the unicorn wings, ensuring your turning gap seams are pressed inwards.
Lastly hand stitch loops of elastic to the back of the unicorn wings.
Do check out further DIY children's costumes on the blog, girls victorian costume, a super quick DIY cape, superhero, spider t-shirt or rocket costume.