My final make for kids clothes week is a t-shirt sundress.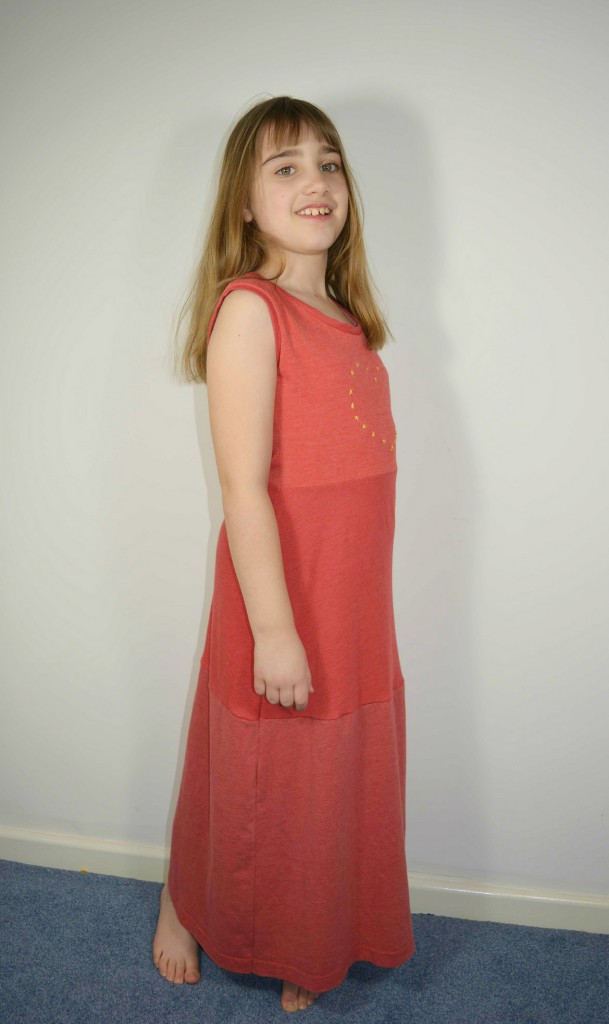 Its quick and easy, have a go:)
DIY T Shirt Sundress
Start by cutting out the bodice part of the dress, either using a pattern or following the layout of an existing dress. Sew together the shoulder seams.
Cut out and add two layers of t-shirt fabric, this create the length of the skirt. Optimise the bottom of a t shirt for the bottom of the sundress, this saves hemming.
Decide on the width of the bottom of the dress, and stitch up to the bodice and on to the arm hole. I used a sun dress my daughter already owns as a template for pinning the side seams.
Once stitched turn right side out.
Decorate or leave plain the bodice. As my daughter loves hearts and decoration I decided to embroider a heart on the bodice piece following a paper template.
Finish the neckline and armholes by creating a binding with more of the t-shirt fabric following the tutorial over at Stitched By Crystal.
One completed sundress – my husband can't quite believe he owned three different t shirts of almost identical colour!
As you can see my daughter loves this dress, its been worn every day despite the fact its winter here!