I love sewing for friends and family when it involves creativity (shortening trousers is not quite so interesting!). A recent whats app conversation with my sister – in -law led to the plan to sew her a doorstop. The family live in Amsterdam, in a property they purchased in 2016. I am yet to visit (but its booked, yeah) I thought it would be fun to make the doorstop to represent their property. My Mum kindly supplied me with a photograph so the doorstop design could be a surprise.
This is the property.. not quite a super tall lovely pastel coloured property I was imagining. A little artistic license led to me omitting the balcony.
How to sew a doorstep
RECOMMENDED SUPPLIES:
Two main panels 10 by 8″
Two side panels 10 by 5 1/2″
Roof 8 by 5 1/2″
Two pieces 8 by 3″
Zip 8″ long
Handle 8 by 6″
Fabric scraps for windows and doors
Ribbon
Strong interfacing or Annies Soft and Stable (you will notice all my photographs do not have this, I realised at the end it was needed!)
Start by applying interfacing or Annies Soft and stable to sides, front and back panel's and roof. Start by sewing the side panels to the front panel. This is to enable you to pattern match if required.
Fold the handle in half lengthways, right sides together, and press. Stitch along the length to create a tube.
Turn right sides out, press then top stitch along both long edges. Place along the middle of the roof and baste into place at each end.
Lets sew the zip in next. Turn an press 1/4 along the long edge for both pieces. Place along the zip and pin in place. Stitch to secure.
Now for the fun part – personalising your doorstop. I have worked from the photograph taking measurements to ensure the proportions of the windows and door are in roughly correct.
The door measures 2 3/4 by 2″, with the window highlight above the door measuring 3/4″ by 2″.
The large windows are 2″ square and the small windows 1 1/2″ square.
Use bondaweb to adhere the window and door pieces to the front panel. Having a pattern on the base fabric helped me keep the pieces straight when positioning.
Place ribbon to represent the door frames. I suggest using a glue stick to hold the ribbon in place allowing you to neatly top stitch to secure.
Lastly sew the doorstop together. Place right sides together, sewing in the roof, adding the back panel and then finally the base. As you sew in the base ensure the zip is partially undone so you can turn right sides out.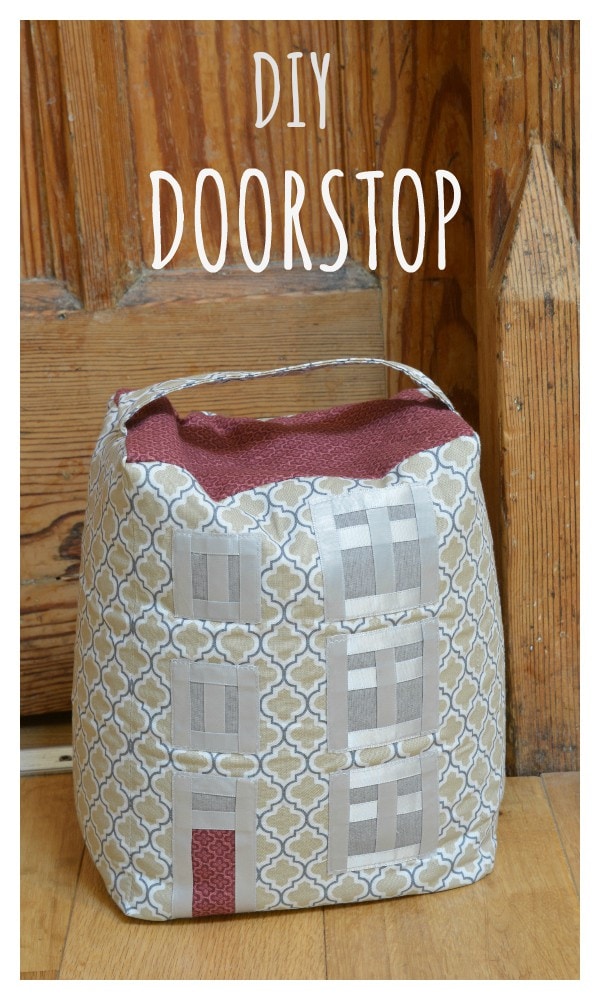 Fill with lentils or rice – it will take quite a few!! If you love working with denim check out my DIY Doorstop made with denim or this post for a heavyweight doorstop.