We may earn money or products from the companies mentioned in this post.
I'm super excited to be taking part in One Planet Norwich's Refashion event on Monday 21st November.
"On average we each spend £640 on clothes a year and collectively throw out 1 million tonnes of textiles …one third of this has barely been worn!

ReFashion Norwich is a FREE event highlighting sustainable fashion whilst having some fun along the way. We want to improve awareness on how to upcycle your unloved garments and give them a new lease of life."
For the first time I'm holding an upcycling workshop #eek (first times seem a bit of a theme this month!). The challenge has been to come up with a project people can have a go at, within half an hour, without a sewing machine (I don't have public liability insurance or my sewing machines PACT tested)
I have borrowed the idea of this necklace from Brenda Bowler. I have slightly tweaked based on the t shirts I could release from my husbands wardrobe without him noticing!.
If you would like to make your own you will need three t shirts, some beads and some glue.
Cut of the hem of the t shirts. Then cut across creating 1″ strips.
Plus these strips between your hands to make your t shirt yarn curl in on itself.
Place your strips into a circular shape at the required length for your necklace. You may wish them to be all slightly different lengths.
Add in your bead necklace (you can see that I have roughly painted what was a bright wooden bead necklace red with acrylic).
Using a further t shirt yarn bind along the joins, wrapping tightly round.
Secure the ends with glue, you may wish to hold in place with pins until the glue has dried.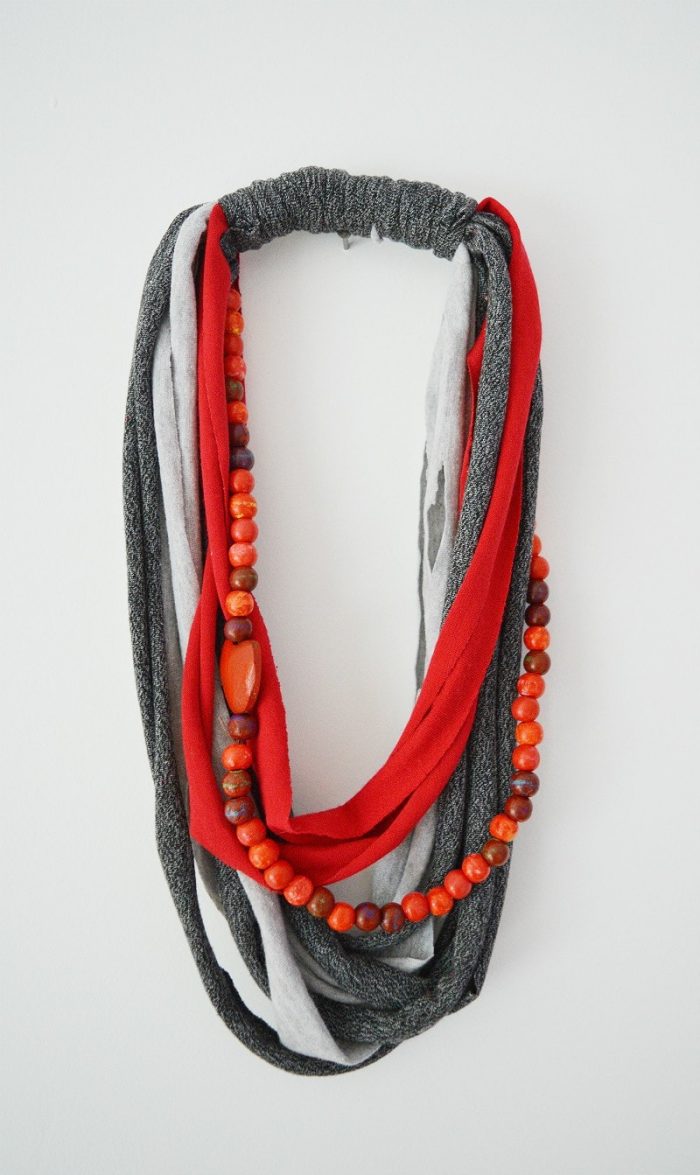 One fun necklace ready to add a bit of cheer to any outfit:) There are so many ways to recycle or refashion t shirts, check out my Pinterest board here for further inspiration.