What's not to love about chalk paint? It's perfect for transforming old furniture into a modern look. I'm not sure what it is about boys and cars, but they do seem to love them. A combination of chalk paint and cars led to this beetle car chest of drawers.
My father-in-law lived with us for a couple of months and when he moved out he left a chest of drawers covered in gloss paint. For some time they languished in the shed, but not for any longer!
They have been given a new lease of life with a change of handles, a new coat of paint and a beetle car design. The beauty of chalk paint is that you can paint the surface without preparation. However, to achieve a higher standard of finish I sanded the drawers down first.
To create your own beetle car chest of drawers you will need:
drawers
chalk paint in a variety of colours
paint brushes, small roller
wax and cloth
Prepare the surface for painting by removing all drawer handles. Sand and wash down (not essential).
If you are changing the drawer handles to a different size (or if you discover an extra set of holes like I did!) fill with wood filler.
Allow to dry, fill again. Once dry sand down and clean.
Paint the drawers with a coat of chalk paint. I used a light grey colour.
If you are painting your drawer handles attach them now.
Apply a second coat of paint. If your drawer handles are not painted in chalk paint leave them off until the very final step.
Create your beetle design. Sketch your beetle on paper first and roughly cut out. Sketching them on paper helps you work out the size which works with your drawer. It is a good practice for redrawing on the chest of drawers.
Using a fine brush, paint your cars with chalk paint onto the drawers. The body of my cars is painted with chalk paint.  Allow to dry in between colours.
Once dry wax your drawers. I used wax from the same range of chalk paints.
If appropriate add your drawer handles now.


As you can see I am not the best free hand painter but in the room they look great. Don't let your painting skills put you off having a go!
This post is sponsored by Volkswagen – check out other recycled and/or car related tutorials by fellow bloggers on the Volkswagen collaborative pinterest board "DIY Bloggers for Volkswagen".

Related posts:
Today I am delighted to be a guest blogger over at Green Issues by Agy as part of her Greeny crafters series.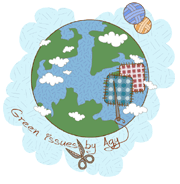 Have you met Agy? She is passionate about the environment, recycling and refashioning.
Check out her blog for lots of fun tutorials and upcycling – my post today features a tutorial for making your own denim tablet case:)

Related posts:
This week has been busy writing guest posts and magazine articles. My research reminded me of the shocking amount of fabric that geos to landfill.
The 'Valuing our clothes' report from Wrap includes news that around 350,000 tonnes (31%) of used clothing out of a total of 1.13 million tonnes are sent to landfill. There are so many different uses for used clothing, reusing as clothing, recreating in to new items – even as simple as your household cloths, or using as packaging.
My new ranges are perfect for fabric scraps, hence avoiding land fill:)
To make you own fabric flower corsage check out my tutorial here.
To make your own shirt sleeve upcycled bottle bag your will need a long sleeves shirt, some ribbon and preferably a sewing machine.
Cut your shirt sleeve to length 34cm
Stitch along the bottom.
Fold the fabric in half, pin and stitch like this.
This creates a rectangle shape at the bottom for the bottle to sit in. Place your bottle inside and tie with a ribbon.
This week I will be busy adding my new ranges to my Etsy shop. I know a lot of makers have been super organised and working on Christmas for a few months now, but it still seemed a bit early for me!
As usual I am stopping by Handmade Harbour, hope you have a had a good creative week:)
Vicky
Related posts: