What's not to love about chalk paint? It's perfect for transforming old furniture into a modern look. I'm not sure what it is about boys and cars, but they do seem to love them. A combination of chalk paint and cars led to this beetle car chest of drawers.
My father-in-law lived with us for a couple of months and when he moved out he left a chest of drawers covered in gloss paint. For some time they languished in the shed, but not for any longer!
They have been given a new lease of life with a change of handles, a new coat of paint and a beetle car design. The beauty of chalk paint is that you can paint the surface without preparation. However, to achieve a higher standard of finish I sanded the drawers down first.
To create your own beetle car chest of drawers you will need:
drawers
chalk paint in a variety of colours
paint brushes, small roller
wax and cloth
Prepare the surface for painting by removing all drawer handles. Sand and wash down (not essential).
If you are changing the drawer handles to a different size (or if you discover an extra set of holes like I did!) fill with wood filler.
Allow to dry, fill again. Once dry sand down and clean.
Paint the drawers with a coat of chalk paint. I used a light grey colour.
If you are painting your drawer handles attach them now.
Apply a second coat of paint. If your drawer handles are not painted in chalk paint leave them off until the very final step.
Create your beetle design. Sketch your beetle on paper first and roughly cut out. Sketching them on paper helps you work out the size which works with your drawer. It is a good practice for redrawing on the chest of drawers.
Using a fine brush, paint your cars with chalk paint onto the drawers. The body of my cars is painted with chalk paint.  Allow to dry in between colours.
Once dry wax your drawers. I used wax from the same range of chalk paints.
If appropriate add your drawer handles now.


As you can see I am not the best free hand painter but in the room they look great. Don't let your painting skills put you off having a go!
This post is sponsored by Volkswagen – check out other recycled and/or car related tutorials by fellow bloggers on the Volkswagen collaborative pinterest board "DIY Bloggers for Volkswagen".

Related posts:
Currently on a health kick I'm doing what I can to stop my sleep being interrupted by the children help my children sleep through the night. My daughter needs someone to turn the light off once she has climbed back into her bunk bed, following a trip the bathroom.
She has already broken two clip on lights, we need a different solution. I had a eureka moment and decided to make her a bunk bed bag for storing book, torch, water bottle, crayons etc.. what better than a bunk bed organizer?
Can you imagine her delight with her new bunk bed organizer? She loves the colours, and has spent at least half an hour deciding what to keep in it:) 'Thanks Mum' said with feeling:)
To make your own you will need:
2 pieces of fabric 10 by 11 inches, lined with heavy weight interfacing
1 piece of fabric for book pocket 15.5 by 10 inches, lined with heavy weight interfacing
2 pieces 7 by 11 inches for the front pocket
2 pieces of fabric for straps – 14 by 2.5 inches
2 Buttons
Lets begin:
Fold book pocket in half and top stitch along the seam
Sew together long sides of front pockets, fold wrong sides together along this seam and top stitch
Place front pocket fabric on top of book pocket, place centrally with the bottom aligning
Mark the central point with tailor's chalk – I find a quilters ruler helps
Pin the sides together. Pleat the excess fabric along the bottom
Stitch along the two sides, along the bottom to hold the pleats in place and down your marked middle seam to create two pockets.
Place this piece of fabric on top of the right side of back piece. Place the second piece of back pocket on top right sides together. Stitch along the sides and bottom
Trim seams and corners. Turn right side out
Create your straps – fold in small seam allowance along the two long edges and one short edge, press. Fold in half and press – stitch round these three edges. Repeat for the other strap
Sew in button holes on the seam end of the two straps
Fold in the top seam of the bag, press. Place the straps into this seam, 1/4 inch in. Top stitch into place.
Place your bag on the bunk bed, pass the straps round to work out the placement of your buttons. Sew on your buttons.
The tricky bit is fabric selection – I used an old curtain and a piece of skirt for my daughter bunk bed bag:)
As you can see I have had fun making a variety in different colours. I think this could make a great gift for any age,:) With the button fastener you could use it the bag on a zimmer, wheel chair, back seats in the car for the kids stuff.

Related posts:
Regular readers may remember a post with 8 different ideas for upcycling crisp packets.  At the time my husband suggested an apron, a google search later and it seems no one has made one. I am delighted to say I have created his idea – one DIY recycled crisp packet apron:)
I engaged my work colleagues in saving up empty crisp packets for me, to bring a wide variety of colours and designs.
Create your own Recycled Crisp Packet Apron
To make your own you will need:
35-40 different crisp packets
Piece of fabric
3 meters of bias binding
1.5 meters of fabric tape (for ties)
sellotape
To make:
Cut out background fabric – this will be the base you sew your crisp packets to. Use an existing apron as a guide, if you don't have one to hand you could go free hand. I used the pattern pieces as a rough template from the book "Great British Sewing Bee" (this is the book from the first series, dare I confess it's the first pattern I have used from it?!). It is 35″ long, 30″ wide at the bottom and 11″ at the top.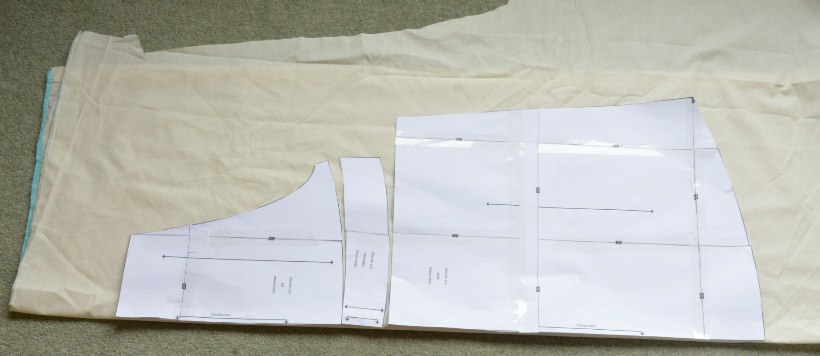 Layout your crisp packets, overlapping on each edge by a centimeter, check you are happy with the colour balance.
You may wish to photograph your lay out before removing all but the bottom layer.
Sellotape the top of the crisp packets to the lining. This holds them in place whilst you then stitch each bag down.
I suggest you have a practice on a spare crisp packet with a piece of your lining fabric – I found the tension on my machine needed a little adjusting. Lengthen the stitch to help prevent the packets ripping, if your packets do rip you may wish to place gaffa tape or masking tape on the back of the packets to strengthen them.
Sew your first layer down.
Layout the next layer – you may wish to ensure you keep your layers straight by measuring down from the top of the apron and marking a guideline with tailor's chalk.
Once you have sewn all layers of packets onto the apron turn over to the lining side and stitch all round the edge.
Trim the crisp packets to the size of the lining.
Attach bias binding all round the apron, I held mine in place with clover clips (you could use pins or hair slides). Attach your ties (22″ long each) and neck tie (22″) under the bias binding as you go.
One finished apron – what would you make with crisp packets??

Related posts: