So how do you fill the day before you go on holiday?? I found myself whipping up a camera bag. The day before you go on holiday focusses the mind and prioritises the sewing to be completed..  A new case for new camera, what else? Oh yes the sun dress for my daughter that doesn't quite fit:)!!
I knew that I would inevitable spend the holidays carrying round a bag with drinks for the kids, carrying their jumpers when they didn't want them, my purse, phone – you get the picture..!
My experience of childrens drink cups leads me to believe that accidents do happen and they can spill.. so I decided I was aiming at protection for my camera so I could place it in the one rucksack with everything  else.
I followed this fab tutorial, and tweaked it a little:) It's two layers of fabric, the outer plus lining, with a layer of wadding inbetween. Using your camera as a template mark out on a piece of fabric, adding an extra 3″ all round. For one side add extra length in order to fold over and fasten with velcro.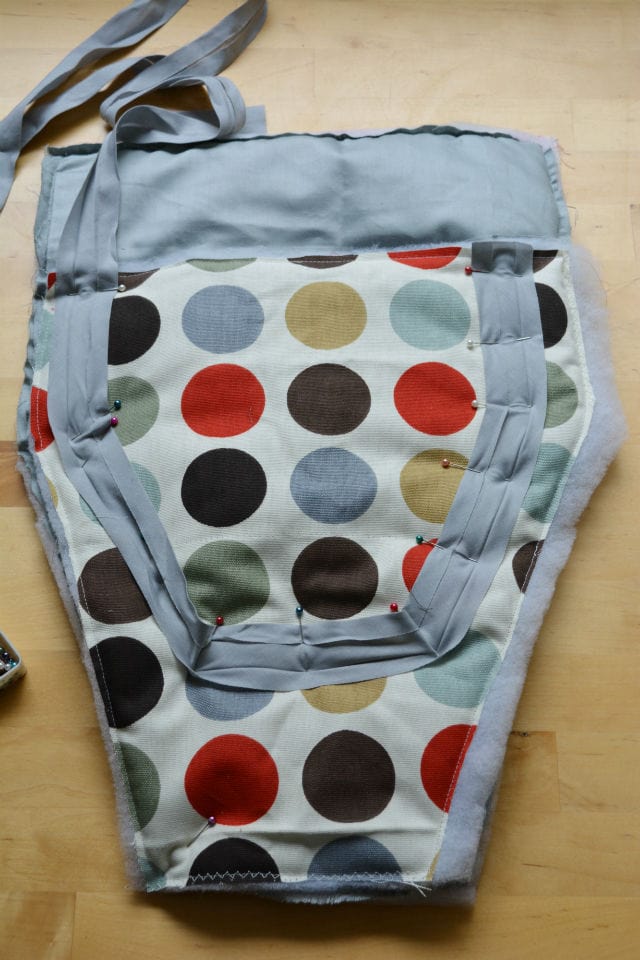 I found the case to be a little big, so when I sewed it all together and added the bias binding to cover the raw seam I altered the measurements.
I do love it when a last minute project comes together quickly, especially when it's from my fabric stash:)
Next up altering my daughters sundress to fit.. I altered the straps from ribbon to cotton, and took the sides in by a couple more inches.
As you can see we had a great holiday:)
I was tempted to purchase this noodlehead pattern, and try to sew one up, but thankfully for all the familys sake reality kicked in re packing suitcases instead!
As usual I am hopping by Handmade Harbour to see what everyone else's week has been like,

This post is linked up here:
Related posts:
I have set myself a challenge, to visit one of the many economy stores that are popping up and to see what supplies I could find.
I think you may be surprised…
Fabric, table runners, t-towels, and of course bed linen. This single duvet cover for £6.99 which is the equivalent of 4 metres of fabric, for the same price I would gain one metre of the equivalent economy fabric in a fabric shop.
Tape, I was looking for parcel tape and double sided tape – have you seen this great tutorial for fabric washi tape, made with double sided tape and fabric scraps?  What I found was foam double sided tape – great for mounting:) Plus Pritt stick glue and wallpaper samples, perfect for card making.
Wool – you can never be short of wool:)
Affordable storage for your crafting supplies.
I didn't find everything I expected to. I guess that is part of economy store shopping.. you never know what they have in stock!

Related posts:
It's the summer holidays, which means the children have lots more time for playing at home. It has not escaped my daughters attention that she has three baby dolls, one in a supermarket trolly, and one in a pushchair – how is she going to transport baby no three??? A dolls baby sling, what else?!
A quick search of the internet revealed a fab, quick and easy tutorial for a dolls baby sling, coupled with fabric from a recent donation I was set.
Admittedly making the sling did take slightly longer than her expectations of five minutes, but to be fair I was delighted with a twenty minute make:)
As my daughter is older than the average girl requesting a baby sling I made it 3″longer which seems to have worked fine. The eagle eyed amongst you will realise that I probably should consider making some baby clothes!!
Currently the three baby's are lined up watching the telly, suspect the baby in a sling is not getting a clear view… Not sure it's missing much!
Hope you are managing to fit some creativity in:) As usual I am hopping by Handmade Harbour to see what everyone else's week has been like,

This post is linked up here:
Related posts: