We have recently had the builders in, lets just say I am delighted they came, and then went!!!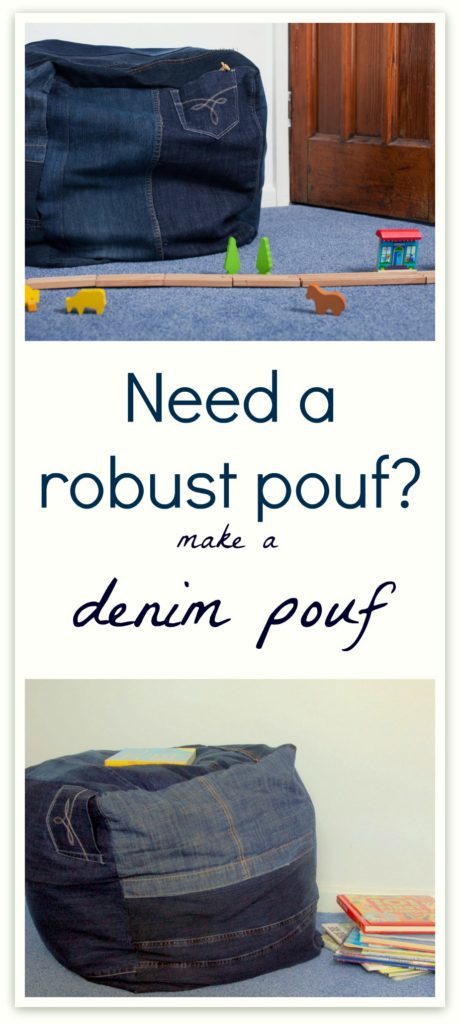 The tot now has a double bedroom and his toys are now in his room, hurray for an adult space in the front room in the evenings!
We are rather partial to foot puffs for sitting on, leaning against whilst sitting on the floor playing trains/cars/tower building – you get the picture. So I was delighted to pick up a new to us foot puff in the local fantastic charity shop – just required a new cover and few extra polystyrene beads. Perfect for his new room:)
I happened to have rather  a large stash of jeans from maternity leave days, a perfect blue colour, and hard wearing for a boys bedroom.  Five pairs of jeans, plus two denim skirts later and I have a new foot pouf:)
I had a debate about sharing what not to do, or a step by step how to – this feels somewhat more positive attitude to take! Tips for recovering your own foot pouf (or should I say learn from my mistakes!).
Measure and make a template for one side. I used old newspaper.
Cut out fabric and pin together to create six different squares. Ensure your pinned square are bigger than your template to allow seam allowance all round.
Create six different squares by including different tones of denim, pockets, and different seams.
Sew your applique style squares, and trim to square shape (with seam allowance).
Lay them all out as you would to make a box out of paper, not as I did in a grid format!
Sew four pieces to together, in a line.
Add your bottom, and sew all seams from your bottom and sides.
Next attach your lid along one side.
Hand stitch your lid on.
One finished recycled upcycle denim foot pouf:)
What are you making with the remainder of your denim?  Check out my denim pinterest board for more ideas:) http://pinterest.com/vickymcreations/denim-recycling/
As usual I will be stopping by Handmade Harbour to see what others have been making this week. Trusting you have a creative week,

This blog post  is linked up here.
Related articles
Related posts:
Welcome to those joining us as part of Creative Crafting blog tour, hope you are enjoying the various stops.
This is where I blog about items I make, either for our home or for sale. I often write about recycled and upcycled projects.
What do you make with your former shirts? I love upcycling former clothes into new creations, often favouring eco bags. Today I am going to share with you a tutorial for making a drawstring recycled bag, lined with shower curtain fabric. This makes it ideal for swimming gear.
Swimming Bag Tutorial
To make your own swimming bag you will need one shirt, plus lining. I suggest using shower curtain fabric to make it semi waterproof
Sew down the front of the shirt, alongside the top stitching. Tip: Remove the buttons, stitch the seam and sew back on.
Create a pattern template – cut a template for the swimming bag. This bag is 31 cm by 41cm, don't forget to include seam allowance on your pattern.
Cut out two pieces of the shirt fabric, ensure it is straight when pinning on your pattern. Tip I suggest folding your pattern in half length ways and ensuring it lays down the middle of the buttons.
Cut out two pieces of shower curtain fabric. Note this needs to be 2cm longer than the shirt to allow the fold over at the top.
Cut out a small piece of fabric to create the piece your piping will thread through near the base of the bag
Stitch your piece of fabric for the tape. Turn through and fold over, pin near the bottom of one of your side panel, facing inwards.
Stitch three sides of the shirt, right sides together. Strengthen the corners by double stitching, and cut the edges off to reduce bulk.
Turn to the right side out and press
Hem the top of your two lining pieces
Stitch your lining together. On one side start your side seam 1.5cm down, as this is where you are going to fold over and thread in your piping.
Insert your lining bag. Pin the bottom to the bottom of the main bag.
Turn over the top to create your channel for the piping, and tack.
Stitch round the top
Using a safety pin thread in your piping.
Tie the two ends of you piping at the bottom of the bag, with one piece of piping threading through your tab.
You've done it… excellent  one recycled swimming bag:)
Like me you probably have lots of the shirt left, this is what I made:
 I am particularly delighted with the bottle carrier, and the thank you notes – both of which I have been meaning to make for sometime. What will you make with the left overs of your shirt?
To celebrate taking part in my first ever blog hop I am offering a giveaway. Simply leave a comment stating which of the shirt items you would like and a random winner will be picked on Sunday the 11th August:) Plus as usual I am off to Handmade Harbour to see what other people have been making this week. thanks for taking the time and hope to see you again soon.
Vicky
Related posts:
This week I became carried away with a new design and shape of recycled handbag that I completely forgot to photograph the size 8 summer dress before I cut it up!!
I felt a compulsion to make a new summery style of bag, may have had something to do with carrying my felt wool handbag to work in the heat! I am not complaining about summer arriving at last:)  This was coupled with meeting a fellow upcycler bag maker Helen over at Doodlebags, I fell in love with this velvety bag, for the fabric and shape.
This is my take on a round bag with deep waist band.
I started with an A4 piece of paper and drew freehand oneside of the bag, adding a piece of paper I cut out two and sellotaped together to create the mirror image pattern. For the waist band I folded the complimentary fabric into various sizes and played until I was happy with the dimensions.
I have to admit that I like the back of the bag as much as the front:) Now contemplating how to make the style with some width to it, starting with no width at the top but widening with side panel widening to a couple of inches at the bottom. Having never done this before I may contemplate a while:)
On a separate note I have signed up to a blog hop with Creative Crafting, how exciting:) The date I have been given is the 4th of August, I have two ideas for blog posts:
Tutorial to create a swimming bag/PE kit bag for children, made from a former shirt – hoping to find a garish bright Hawaiian shirt in a charity shop
Tutorial to felt jumper and create applique felt bag
Can you hep me decide which?! There is still time to sign up to the blog swap, why not join me?
Have a good week, I'm off to have a look at what everyone else has been making this week over at Handmade Harbour
Vicky
Related posts: