Welcome to Day 2 of #12DaysofChristmasDIYChallenges
The video for today's challenge stars yours truly, be kind, I'm not a natural!!
The challenge – Take an old pair of jeans and turn them into a Christmas Gift
It is no secret I love reusing denim, it is such a versatile hardwearing fabric. Plus it is so easy to source, a quick plea on Facebook usually results in five more pairs to play with!!
These are some of my favourite denim upcycled makes –
Today I'm going to share with you a quick gift – whip up an apron in less than an hour. Pair the apron with DIY tools or cooking accessories and there you have it one thrifty homemade gift:)
Upcycled Denim Apron
You will need:
wide legged jeans
Complimentary fabric for pocket
bias binding
webbing for straps
Measurements
5yr old-
Straps   Neck strap
Pocket Piece
Apron
58cm along the bottom
58cm high
18cm along the top
38cm along the sides
9 yr old –
Straps   Neck strap
Pocket Piece
Apron
60cm along bottom
65 cm high
19cm  along the top
38cm for side
Adult
Straps   Neck strap
Pocket Piece
Apron:
62cm along bottom
89cm high
21cm along top
61cm along sides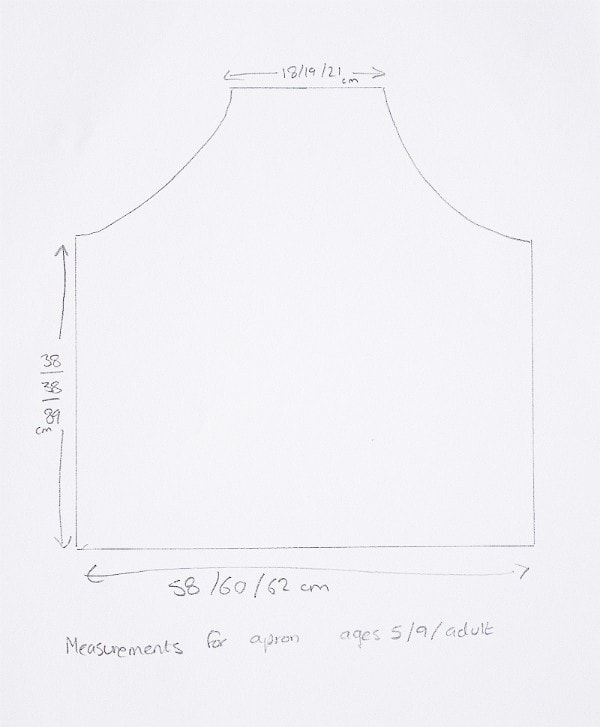 To Make:
Start by cutting along the inside seam of the trouser leg, cut off the leg near the pocket.
lay out your denim – alter the trouser leg seam so the fabric lays flat if need be.
Cut out your apron – if you find it easier make a paper template with measurements.
Fold over twice the top of the pocket and press.
Stitch in place. Fold in once the side and base of the pocket. Pin centrally onto the apron.
Stitch round the pocket twice, encasing the raw folded edge between the two lines of stitching.
Fold and press your bias binding. Pin the side straps and the neck strap in place. Work your way around the apron pinning the bias binding in place to finish the raw edge of the apron.
Stitch round, when you reach the strapping fold over so it lies in the right direction for use.
Hurray – your done:) One quick and easy DIY denim gift:)
If you would love to see more Apron ideas why not visit All Free Sewing for some great free tutorials.
Stay tuned for more #12DaysofChristmasDIYChallenges
Please do link up, I would love to see what you ave been making.
Related posts:
Dare I mention the C word? Are you beginning to think about DIY gifts? I love this denim tablet case:) The DIY will be published in the Reloved magazine but I thought it only kind to share the tutorial here. Its quick and easy to make plus makes a great gift:)
Measure your tablet, add an extra 6cm along the width and 3cm along the length. This allows 1cm seam allowance. This case is for a mini IPAD. The IPAD measures 20 by 13.5cm, the finished case is 16 by 21cm. I therefore cut the fabric 18 by 23cm.
Cut two pieces of denim. Utilise the pocket of your former trousers to add detail plus additional storage.Cut two pieces of shirt.
Cut two pieces of interfacing. Iron the interfacing to the denim, think about the grain of the denim.
Cut two pieces of a type of wadding, I used fusible fleece. Bear in mind the thicker the material the more protection but also the impact this has on the internal size of the finished case. Attach to lining fabric.

Pin your denim right sides together. Stitch round three sides, leaving the top open.
Pin your lining right sides together. Stitch down the sides, and a couple of cm's along the bottom of each corner.

Trim the corners of your denim, and lining as shown.
Turn your denim right side out, carefully turning the corners neatly out (I used a knitting needle to help turn out crisp corners).
Create a button loop from thin elastic. Pin on the back, in the middle. I suggest you measure and mark the middle.
Place your denim inside the lining, so that the right side of the denim faces the right side of the lining.
Pin together, ready for stitching together.

Stitch round the top of the case.
Turn right side out. Sew on the button, in the middle of the front of the case.
Slip stitch the bottom of the lining together, and carefully push the lining into the denim.

One finished table case:)
How many will you be making this year? Have you started to think abut Christmas?

Related posts:
We have recently had the builders in, lets just say I am delighted they came, and then went!!!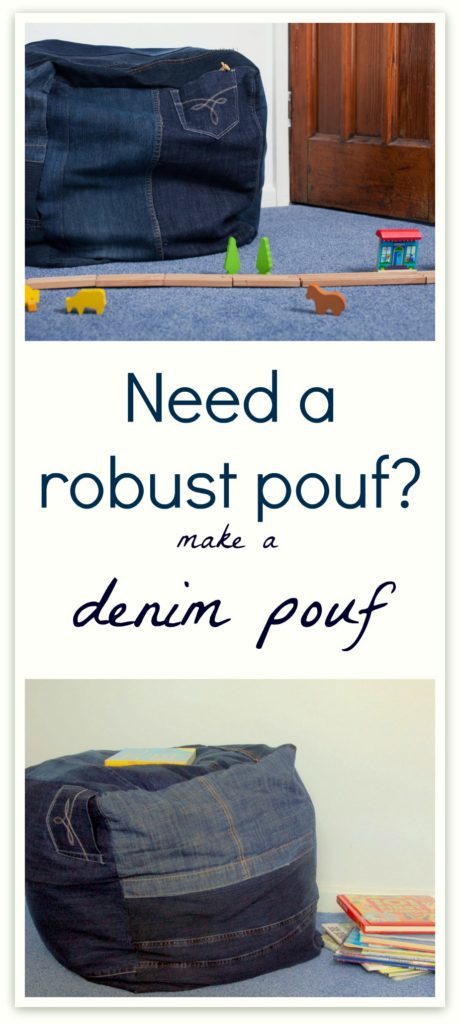 The tot now has a double bedroom and his toys are now in his room, hurray for an adult space in the front room in the evenings!
We are rather partial to foot puffs for sitting on, leaning against whilst sitting on the floor playing trains/cars/tower building – you get the picture. So I was delighted to pick up a new to us foot puff in the local fantastic charity shop – just required a new cover and few extra polystyrene beads. Perfect for his new room:)
I happened to have rather  a large stash of jeans from maternity leave days, a perfect blue colour, and hard wearing for a boys bedroom.  Five pairs of jeans, plus two denim skirts later and I have a new foot pouf:)
I had a debate about sharing what not to do, or a step by step how to – this feels somewhat more positive attitude to take! Tips for recovering your own foot pouf (or should I say learn from my mistakes!).
Measure and make a template for one side. I used old newspaper.
Cut out fabric and pin together to create six different squares. Ensure your pinned square are bigger than your template to allow seam allowance all round.
Create six different squares by including different tones of denim, pockets, and different seams.
Sew your applique style squares, and trim to square shape (with seam allowance).
Lay them all out as you would to make a box out of paper, not as I did in a grid format!
Sew four pieces to together, in a line.
Add your bottom, and sew all seams from your bottom and sides.
Next attach your lid along one side.
Hand stitch your lid on.
One finished recycled upcycle denim foot pouf:)
What are you making with the remainder of your denim?  Check out my denim pinterest board for more ideas:) http://pinterest.com/vickymcreations/denim-recycling/
As usual I will be stopping by Handmade Harbour to see what others have been making this week. Trusting you have a creative week,

This blog post  is linked up here.
Related articles
Related posts: