Each year my daughters school have a Jam Jar Tombola for the children. Of course the kids are just mega keen on gaining a jar full of sweeties but I like to add a twist.. After all it's far more fun to win one of my random ideas, right?
Twenty Thrifty Jam Jar Tombola Ideas
Bathroom gifts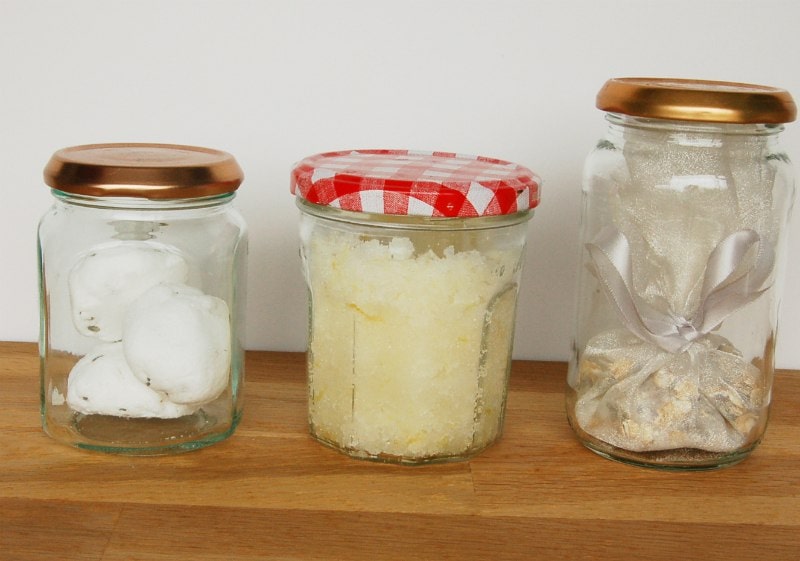 Plants & Garden Ideas
Various packets of herb seeds, encourage people to grow their own
Succulents planted
Food
Home made toffee sauce
Flapjack
Chutney – endless possibilities, in the UK mango may be a good choice for curry eaters:)
Jam
DIY cookie jar, layered ingredients
Girly ideas
Hair slides
Rags, for twisting in long hair to make it curly
Creative Play ideas
Every day objects printing kit
Raided craft cupboard jar
Craft kits from covers of magazines
Rest assured I did manage to get labels on to the more obscure (like the hair rags), or the homemade with  a list of ingredients #healthandsafety.
There are so many more ideas just buzzing round my head.. what would you fill your jam jars with?

 This post is linked up 
here
Related posts:
I have recently been introduced into the novelty of a jam jar tombola.
My daughters school has just held the annual big fundraiser BBQ with said tombola. So what did we contribute?
Inspired by Jen (make do and mend year) amongst others I was determined to avoid filling our jam jars with plastic tat toys and sweets. I tried to have various themes, but ended up with a lot more ideas than I managed to execute (nothing like leaving to the last minute!)
Cleaning Products: Kitchen Coffee Soap, my recipe was from the great book "the handmade soap book" by Melinda Coss however there is also a recipe at handmadeology. It's great soap which removes the smell of garlic and onion from your hands. Other ideas include making body scrub, bath salts, DIY fabric conditioner (could I locate the idea of vinegar and mint leaves as the basis of fabric conditioner?!)
Creative jars for the kids: A DIY printing kit. this was filled with everyday items for mark making and printing. This one included kitchen sponge, cotton reel, a mega block, bubble blower, and a string /cardboard print.
Jars for growing plants: We potted up herbs and various other plants out-door plants. Other ideas included creating a face on the jar, with cress growing out of the top for hair
Girly bits. My daughter suggested a jar with rags… I love it, we attached a note with instructions for twisting/plaiting your hair and the different results. To our amusement a boy inevitably won it!
We also created a jar with a flower corsage and  hair clips (instructions for the hairclips came from Martha Stewart)
Foody jars: I had great plans for three different types, chocolate chip cookies, tiffin and cheese straws. Sadly the cookies were too big to fit in! The night before I realized we had no golden syrup in stock so there was no tiffin… so cheese straws it was!
Other foody jar ideas include homemade chutneys, jams, jellys, cheesecake, wild garlic pesto, soup mixes the options are endless.
I had great fun thinking up the ideas. Check out my a Pinterest board with more ideas, including a link to embossing a jar, and creating your own snow globe.
Lets hope the children and parents who won the jars got a little bit of the something I was trying to say… we don't need plastic!! Open yourself up to creativity:)
What would you put in??
Please do top by Handmade Harbour and see what other people have been making this week.
Related posts: