Have I ever shared how I love to read? I am a massive fan of my local library service, visiting almost weekly to pick up fiction books. I am almost addicted to reading at bedtime. Escaping into fiction helps me switch off and wind down for a good nights sleep.
I still have a small amount of shibori inspired dyed denim – remember the pencil cases I made?. It dawned on me that I could adapt this rather nifty technique for making bag handles to create a neat book mark.
Today I am going to share my various shibori inspired denim bookmarks.
Elastic bookmark tutorial
To make:
Elastic the length of the book plus 1/4″
Shibori dyed denim, the length of the book by 4″  (see this post for more information)
Iron on interfacing, the length of the book by 4″
Tip – of you have think denim you may wish to omit the interfacing
Iron the interfacing to the back of the denim
Fold the fabric in half lengthways right sides together. Press.
Fold the long length in half again wrong sides together. Press. Repeat for the other side.
Place elastic in the middle of the denim sandwich. Hold with a pin. Refold fabric.
Sew short ends.
Trim the seam allowance, this reduces bulk. Turn the fabric so the inside is now on the outside.
Poke the corners out. Press and finish with a top stitch all round the denim.
Use the same technique to create a bookmark with ribbon.
Or how about a different take on elastic? Lengthen the denim, create an elastic loop and add a button.
Personally this is my favourite – I am tempted to start a bullet journal, if I do this is the style bookmark I will use. Naturally you can use any fabric scraps you have.

Related posts:
This post contains affiliate links for your convenience
I was delighted to find "upcycling" by Max McMurdo available at my local library. Naturally any book with this title is going to be on my reading list, but is it a coffee table book, a practical book or a mixture of the two??
The book starts with a general introduction into upcycling. The definition "upcycling adds value to the item through clever design to make it more desirable, financially, aesthetically and emotionally" resonates with me.
The book has 20 projects spread between three chapters Furniture, Storage & Display, Lighting & Accessories. Each project is explained step by step with diagrams and photographs to assist.
Furniture – This section include eight projects, some more complex than others. My eye is drawn by projects I would not attempt without instructions, particularly the wheelbarrow chair and the bike stool. But if you like upcycled furniture but on a more day to day basis there are projects for you too.
Storage and Display – This section has five projects. Ranging from a skateboard shelf (how cool would this be in a boys bedroom?) to a salvaged drawer shelving unit.
Lighting and Accessories – This chapter has seven project, five of which are lighting. The step by step instructions with accompanying images are clear, allowing you to transfer the information to your own designs.
Tools and techniques – This section covers a variety of tools and their uses.  For someone like myself with limited DIY skills this section is particularly valuable, explaining tools and their application with lots of helpful tips.
The introduction to chapters encourages  thought and consideration to be given to the materials and design of the project. As someone who has no woodwork skills I found this book to have a coffee table feel but with good instructions. I now feel that I can create a light fitting, how exciting is that?!

I am offer to buy a copy (after all I did borrow it from the library for three months, I suspect I should give it back!). My school was fabulous at teaching me to sew but at a girl's school I never learnt woodwork skills. I confess until recently I was not able to tell whether a drill piece was for masonry or wood!
Let me finish with another quote from Max "Go crazy and be brave".

Related posts:
We have lived in our home six and a half years We designed the living room to be timeless, so fairly traditionally decorated with neutral colours, old leather sofas, tall book cases packed with books, a wood burner plus a traditional rug.
We decided to update the feel of the room. I was keen to bring in a touch of originality, recycling, something that represented our personality's.
After much discussion the furniture was rearranged, books sorted and parted with (most went to the Greenhouse Trust a local environmental charity). Our conversations revolved around a cube effect storage solution running below the long window. This gives us the ability to continue to close the curtains.
Thoughts ranged from Ikea to apple crates. Thankfully apple crates won – we played with a layout.
Then I remembered some wooden shweppes crates given to me by my Grandad (he packed me a tool box when I left home).
These add a variety of shape and design as well as the sentimental value. Once agreed on layout we then cleaned and sorted the boxes. Some were cleaned and waxed.
Others were lightly brushed with thinned down chalk paint to highlight the texture in the wood.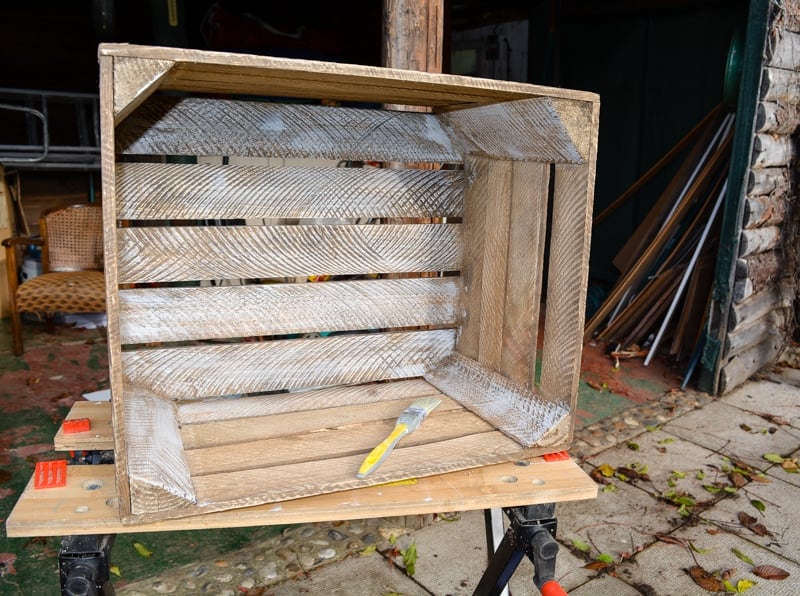 The crates are sturdier than envisaged, so there is no need to bolt them together. This gives us flexibility for rearranging as and when the desire take us.
We love the finished result.
The room feels spacious (it is a large room), modern and reflects our personality.
It's great to change the look of the room for £50 worth of apple crates (thanks to ebay),

Related posts: