This post contains affiliate links for your convenience
I was delighted to find "upcycling" by Max McMurdo available at my local library. Naturally any book with this title is going to be on my reading list, but is it a coffee table book, a practical book or a mixture of the two??
The book starts with a general introduction into upcycling. The definition "upcycling adds value to the item through clever design to make it more desirable, financially, aesthetically and emotionally" resonates with me.
The book has 20 projects spread between three chapters Furniture, Storage & Display, Lighting & Accessories. Each project is explained step by step with diagrams and photographs to assist.
Furniture – This section include eight projects, some more complex than others. My eye is drawn by projects I would not attempt without instructions, particularly the wheelbarrow chair and the bike stool. But if you like upcycled furniture but on a more day to day basis there are projects for you too.
Storage and Display – This section has five projects. Ranging from a skateboard shelf (how cool would this be in a boys bedroom?) to a salvaged drawer shelving unit.
Lighting and Accessories – This chapter has seven project, five of which are lighting. The step by step instructions with accompanying images are clear, allowing you to transfer the information to your own designs.
Tools and techniques – This section covers a variety of tools and their uses.  For someone like myself with limited DIY skills this section is particularly valuable, explaining tools and their application with lots of helpful tips.
The introduction to chapters encourages  thought and consideration to be given to the materials and design of the project. As someone who has no woodwork skills I found this book to have a coffee table feel but with good instructions. I now feel that I can create a light fitting, how exciting is that?!

I am offer to buy a copy (after all I did borrow it from the library for three months, I suspect I should give it back!). My school was fabulous at teaching me to sew but at a girl's school I never learnt woodwork skills. I confess until recently I was not able to tell whether a drill piece was for masonry or wood!
Let me finish with another quote from Max "Go crazy and be brave".

Related posts:
We have lived in our home six and a half years We designed the living room to be timeless, so fairly traditionally decorated with neutral colours, old leather sofas, tall book cases packed with books, a wood burner plus a traditional rug.
We decided to update the feel of the room. I was keen to bring in a touch of originality, recycling, something that represented our personality's.
After much discussion the furniture was rearranged, books sorted and parted with (most went to the Greenhouse Trust a local environmental charity). Our conversations revolved around a cube effect storage solution running below the long window. This gives us the ability to continue to close the curtains.
Thoughts ranged from Ikea to apple crates. Thankfully apple crates won – we played with a layout.
Then I remembered some wooden shweppes crates given to me by my Grandad (he packed me a tool box when I left home).
These add a variety of shape and design as well as the sentimental value. Once agreed on layout we then cleaned and sorted the boxes. Some were cleaned and waxed.
Others were lightly brushed with thinned down chalk paint to highlight the texture in the wood.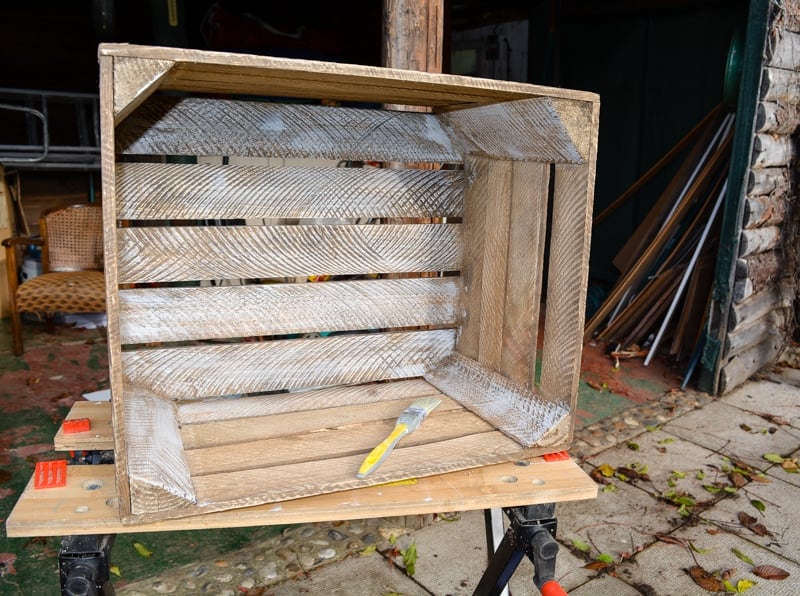 The crates are sturdier than envisaged, so there is no need to bolt them together. This gives us flexibility for rearranging as and when the desire take us.
We love the finished result.
The room feels spacious (it is a large room), modern and reflects our personality.
It's great to change the look of the room for £50 worth of apple crates (thanks to ebay),

Related posts:
This week has been in the main household tasks, helping out at the children's school and similar. I have made some progress with shibori stitching, follow me on instagram for snapshots of work in progress. But this coming week I am excited to be taking part in Makers Month.
This is a fabulous event being held in Norwich with many, many free activities.
I am representing the group Make & Create, along with some friends. Make & Create is a monthly craft group that I co-host, people bring their own projects, meeting in a bar once a month. We've had business cards printed for the group with a new design by Gin Fox, it is just perfect. It represents our group so well, do check out her Etsy shop here for great Valentines Cards.
So what are we doing? We are running a drop in t-shirt into necklaces workshop tomorrow. I am passionate about the cost of new resources to our fragile world. It takes a shocking 2700 liters of water to produce one t shirt. So if I have an opportunity to promote recycling, reusing I will.
Other things to do tomorrow are:
The Woven House (From Shirt to Yurt)
Game of Thrones Hardhome Embroidery (see here for more info)
Norfolk Knitters and Stitchers drop in crochet and knitting
The Big Draw
Craft Bank
Saori weaving pre-bookable workshops
The knitted Enchanted Wood and Garden
Capability Brown embroideries
The Cocoon free-form crochet installation
(see here for the online listings for the day)
Personally I am particularly interested in finding our more about Craft Bank – Paint it, print it and stitch it says Susan Rudling, who has set up Craft Bank in Norwich. Craft Bank is about promoting health and well-being through creativity. I'm looking forward to meting Susan to find out more about Craft Bank.
Be lovely to see some friendly faces tomorrow (it is rather short notice!)

Related posts: