Bug hotels are all the rage, its not hard to see why. Building a bug hotel is a great activity to involve children in. It sparks an interest in insects, wildlife and the outdoors.
Your tyre bug hotel can shelter bumblebees, ladybirds , woodlice and so much more. The autumn is great time of year to build one as you are likely to have a variety of natural materials available. You can use straw, dry grass and hollow plant stems.
To make your own recycled tyre bug hotel balance your tyre on a piece of brick either side. I found this tyre dumped by the side of the road, but I am sure you can ask your local garage for an old tyre.
Place something like sticks or straw across the base of the tyre. It needs to be a material which crosses the gap within the tyre. We have used sticks.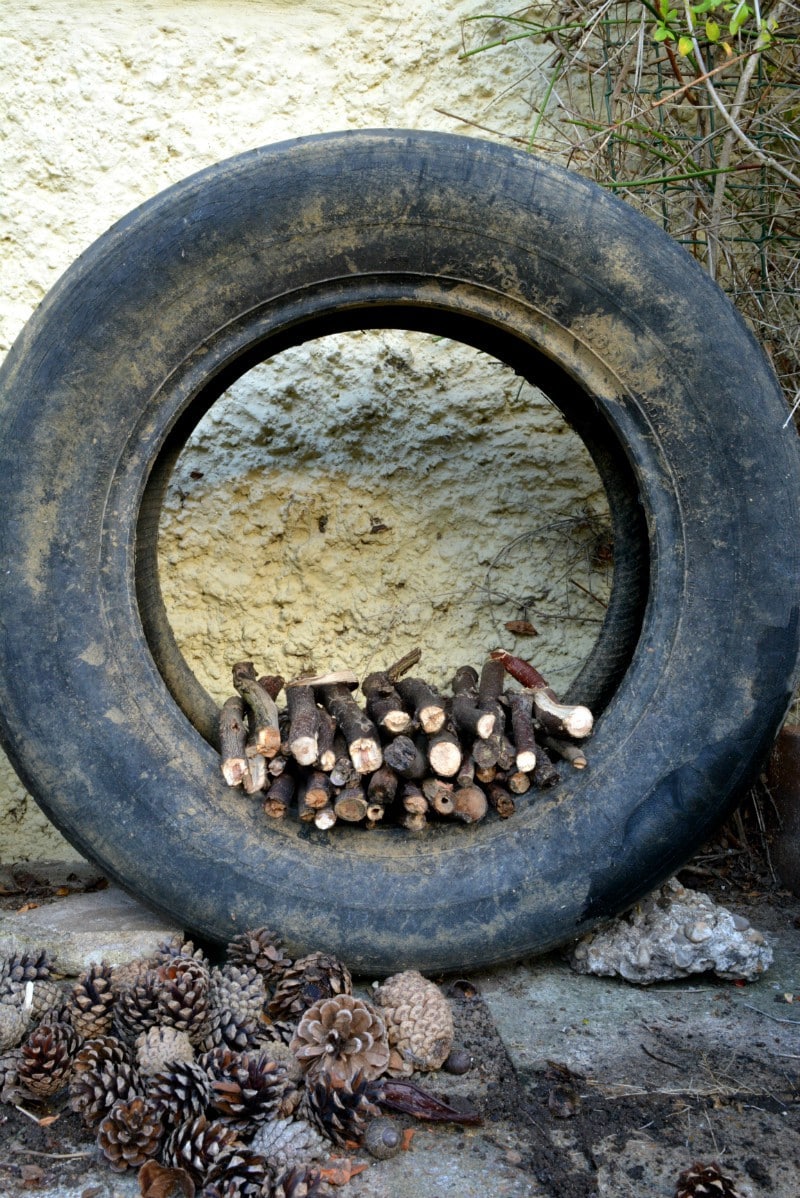 Cut a piece of wood to lay on top, it needs to be the width of the tyre tube.
Place your next layer. We have used pieces of a old hose pipe, followed by the stems from our corn crop. In the middle we have placed a former brick drain pipe, with a vw logo made out of foam board.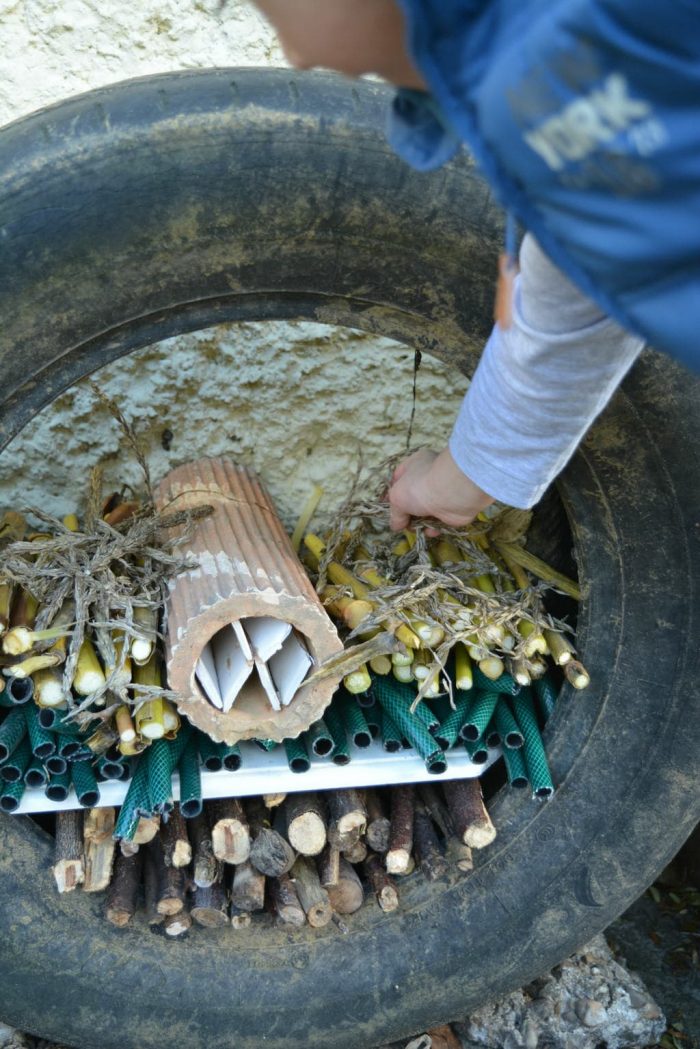 Place a layer of wood across. Fill your next layer, we have used the pine cones followed by sticks.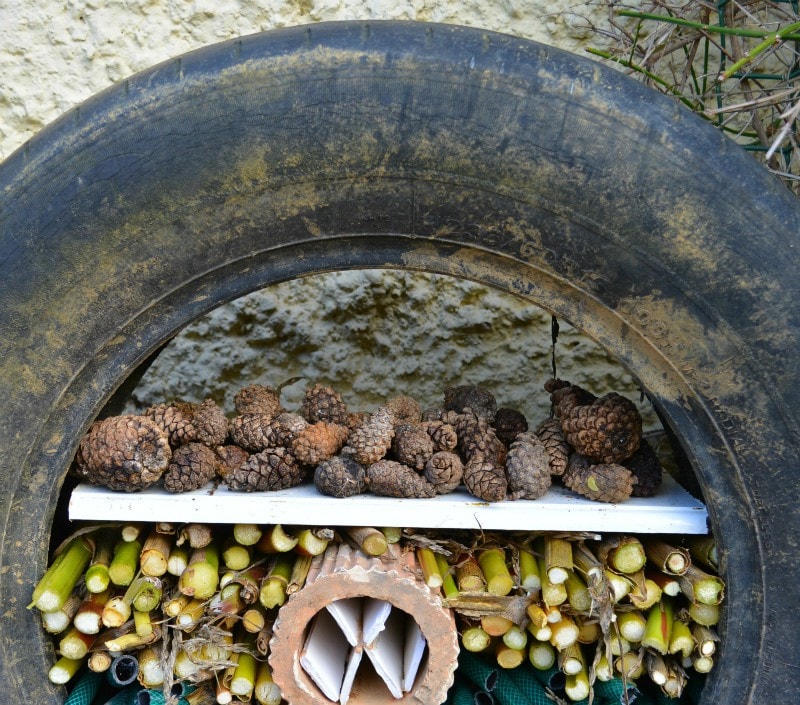 It's dead easy to make and makes a fun alternative to have a round DIY bug hotel.
This post is sponsored by Volkswagen – check out other recycled and/or car related tutorials by fellow bloggers on the Volkswagen collaborative pinterest board "DIY Bloggers for Volkswagen".

Related posts:
I love the concept of restyling clothes, creating a new item out of thrifted old clothes. The process of refashioning can be fun, creative, challenging, this in itself is motivating. Plus of course the finished result is unique, fits you and your style. However it doesn't always go to plan..! Give your self permission to fail, it is only through failing do we learn.
Fail at refashioning
Refashioning usually starts with an end vision, a concept of where you are going to take the item of clothing or the combination of several items. The finished refashion does not always match the vision.
Personally being a larger size limits the choice of fabric/items to refashion in charity shops. I struggle to visualize where I can take a preloved item of clothing. Plus I have limited experience at refashioning.
Recently I found this beautiful purple knit fabric plus a small navy dress, the colour's pair beautifully together. 
A good starting point for refashioning is to use an existing garment in your wardrobe as a template for cutting the fabric/old clothing. Using an existing tunic I cut the old clothes to size.
So far my project is going to plan, navy top with purple base to the tunic, making the most of the widest part of both garments and the hem.
But then I failed, I used my overlocker (serger) to sew the two fabrics together. My lack of experience with knit fabrics came to light, somehow the tension is just wrong. The seam is ripply, not flat. The top just does not hang right! It maybe that this is to do with the settings on the overlocker, or the combination of the fabrics. The navy fabric has a ripple to it which may not cope with being attached to a flat fabric?
My reaction was of frustration with myself. Why did my project fail? How can I fix it? My time is limited and precious, naturally my desire is for every creative project to succeed.
" It is only through failure and through experiment that we learn and grow" Issac Stern
When a project fails it is disappointing and can be extremely frustrating. Turn it on its head, what have you learnt? what will you do differently next time?
Practice, practice, practice – this is the way l will learn how to master the tension on my overlocker. The fear of failure can hold us back but failure is an essential part of creativity, its how we learn and grow. As my daughters school teacher says "FAIL means First Attempt In Learning"

Related posts:
Easter is around the corner but you still have time to make an Easter table decoration. Personally Easter is about spending time with family, creating new traditions, eating, crafting. My son particularly loves the rhythms of the seasons, decorating the house.  Table decorations are not my strong point but even I can manage this egg shell table decoration, its so simple to make but so effective:)
The cress takes about seven days so you do have time to make this yourself.
This post contains amazon affiliate links for your convenience. 
Egg Shell Easter Table Decoration
You will need:
To make:
Spray the egg shells, set aside to dry (preferably not in a windy place, you don't want to know how many egg shells I lost!)
Fill the shells with soil or cotton wool, add cress seeds and water.
Find a log, drill three holes with a wide drill piece (the one I used was marked 32).
Place eggs in drilled holes.
That's it, one finished DIY easter eggs shell table decoration, easy to make yet stylish. Alternatives you could try, dye the eggs with onion seeds before cracking and scooping out the cooked egg, or let your children decorate the shells with sharpies? Or you could use the sharpies yourself to make intricate patterns – this would look great with white shells.
However you choose to spend Easter I hope you have a lovely time,

Related posts: