Do you have endless piles of fabric scraps?? I know I do … over the years I have had a variety of storage solutions ranging from cute denim baskets, clear plastic bags and even plastic shoe boxes.
I have to admit my stash of scraps can become overwhelming. Regular readers will know that I hate waste, I have a strong preference for recycling or upcycling. There are so many ideas for using fabric scraps its hard to throw them away!!  Today I am going to share you with you a fabric scrap clutch tutorial.
What's not to love about a clutch, great for day or evening why not make one with your precious scraps of your favourite fabrics?
Fabric scrap clutch tutorial
Supplies
Scraps
Iron on interfacing
Fusible fleece
Base fabric 16 by 12″
Front of bag fabric 8 by 10″
Lining fabric 24″ by 10 1/2″
Ruler and pencil
scissors/rotary cutter
glue stick
sewing machine
button
To make:
Place fabric scraps onto your base fabric. Once you are pleased with the layout pin or using your glue stick hold in place.
Machine stitch the scraps – I have used an applique stitch on my sewing machine. Alternatively you could use a zig zag machine. Test your tension first on a fabric sample (I would hate you to ruin your scraps with an uneven tension).

Cut your scrap fabric piece to measure 14 by 10″. On the reverse mark 4 3/4″ up on the left hand side, 1 3/4″ up on the right hand side. Along the bottom mark 6 3/4″ in on the left hand side 2 1/2″ in on the right hand side.
Use these marks as your cutting line to create the triangle front design of the bag.
Iron interfacing to your front panel piece. Place this right sides together along the short straight edge of the scrap fabric. Stitch the seam with a 1/4″ seam allowance then press.
Iron the fusible fleece to the reverse of the lining fabric. Using your fabric scrap piece as a guide cut out the front flap triangular shape.
Place the lining and the main bag right sides together. Stitch the short side and the triangular shape. Trim the seam allowance around the point of the triangular shape being careful not to cut into the seam stitching.
Turn right side out and press.
Fold and press as your finished clutch. Sew your button hole in the v shape, ensuring the top of the button hole is parallel or shorter than the start of the straight edge (on the left hand side as you look at it)
Turn inside out so right sides are touching. Fold the bag in as per the picture.
Stitch the side seams allowing a turning gap on the closing flap.
Turn right side out, press in the side seam.
Top stitch round the v flap. Finally add your button.
No time for making a scrap fabrics clutch today?? Why not pin it for later?
Today I am taking part in a blog hop all about fabric scraps which is hosted by Jen of Faith and Fabric. Fabric scraps can be a great source of inspiration, they are free and worth far more to you than sending to landfill in your bin!! Please do check out all the creative ideas being shared today as part of this blog hop:
Quilting is much more fun than housework

Related posts:
I don't know about you but finding appropriate clothes for a tween can be slightly tricky. My daughter is developing her sense of style, but is at that awkward stage of outgrowing the clothes ranges we usually shop at (she in age 12 clothes). As a mere 10 year old teenager ranges are not suitable for her in style. I find clothes buying and making rather stressful.
So the opportunity to take part in this Growing Up Handmade tour seemed a great idea, focussing me to sew for a tween. The challenge for her and I to find patterns and fabric she likes the look of. Children come in all shapes and sizes, sewing for her means I can adjust patterns to fit her shape – she often finds sleeves a little tight on the arms.
We both fell in love with the pattern by Love Notions called Li'l LDT. The options seem endless, a shirt, tunic and dress with five different sleeves and four different necklines. The size range is impressive too, ranging from age 2 to 16, great value for money. I bought mine from Etsy here.
I have made her two items. We started with knit fabric I had in my stash to create a dress with a fabulous hem line and cowl neck. My daughter LOVES this dress, she has worn all weekend every weekend!!!
May be because she lives in black leggings and this black jacket?! They pair so well together.
Secondly she loved the idea of a hoody (personally ??? what? where did that come from??!), I ordered this navy jersey from Minerva Crafts. It has a slight texture to it, adding a touch of detail.
I adjusted the pattern a little, sewing a 12 I shortened the sleeves and made the hood slightly smaller. With the remainder of the fabric I  managed to squeeze an age 3 dress out for my niece.
I have loved sewing for a tween – the team effort of fabric choice and pattern resulted in two items she practically lives in. Such a win win – plus of course it's such a versatile pattern from which I can sew many more items for her. I hope this blog tour will inspire you to sew for a tween.
There is a fabulous giveaway running alongside this blog tour, with some great prizes from various sponsors:

a Rafflecopter giveaway

 Please do visit the other bloggers taking part to find lots of great inspiration.
Monday – April 17th
Handmade Boy | Paisley Roots | Cucicucicoo: Eco Sewing & Crafting
Tuesday – April 18th
Beri Bee Designs | Phat Quarters | Sewing By Ti | Sew and Tell Project
Wednesday – April 19th
The Wholesome Mama | Rebel & Malice | Vicky Myers Creations
Thursday – April 20th
Pattern Revolution | Skirt Fixation | SewSophieLynn | EYMM
Friday – April 21st
Round Up and Giveway Winners
Related posts:
Love collecting pieces of rusty metal off the beach? Wonder what to do with them once home?! My eye has been drawn to fabric dyed with rust – somehow I started yet another Pinterest board! The patterns on rust fabric are beautiful.
I love the random nature of rust dyed fabric. It is hard to control the results but that is part of the fun. Different fabrics will react slightly differently, some may dye quicker than others.
These are my experiments (to date!)
How to dye fabric with rust
Collect a variety of objects with rust – your fabric will need to be touching rust for the colour to develop.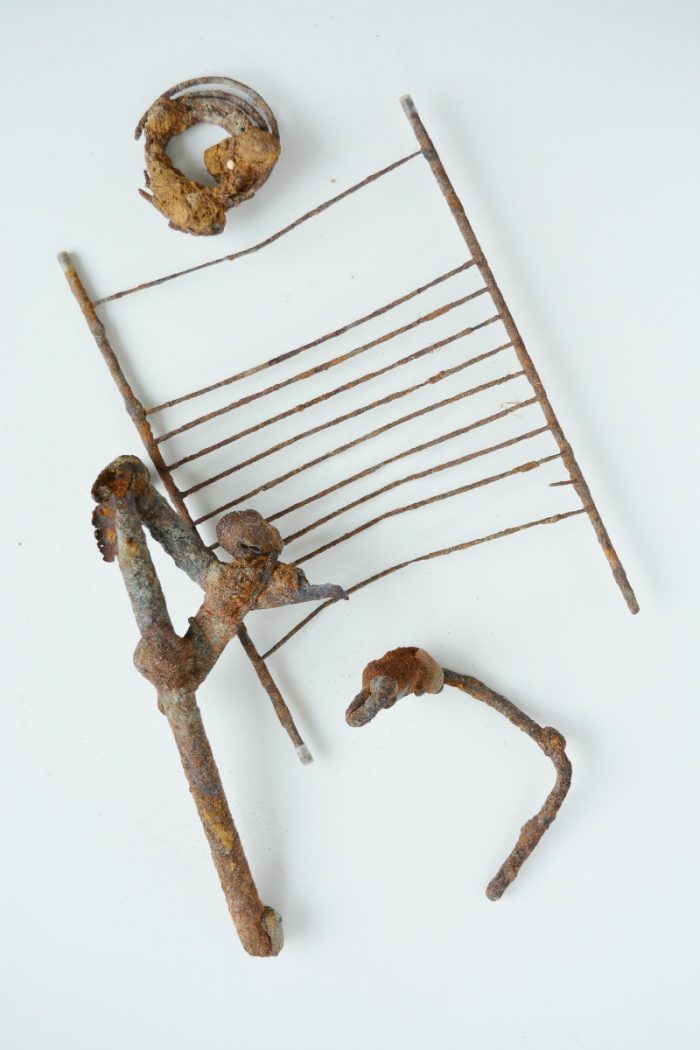 Soak your fabric in a ration of 50:50 vinegar and water.
Place rust fabric on top of fabric, alternatively wrap the objects in fabric.
The rust dye will take anywhere between a day and five days to develop.
Bright sunshine helps the rust develop.
Once dyed wash the fabric.
 Rust fabric, creating patterns
Having experimented dying fabric with found rust objects I moved on to experiment with non rusty items. My thoughts were could I have more control over the results, create patterns?? I experimented with pins, staples and metal washers. Non of these objects had rust to start with. I pleated the fabric, adding the metal items to see if I could create specific patterns.
Initially the results looked unpromising but after two to three days I am delighted with the results.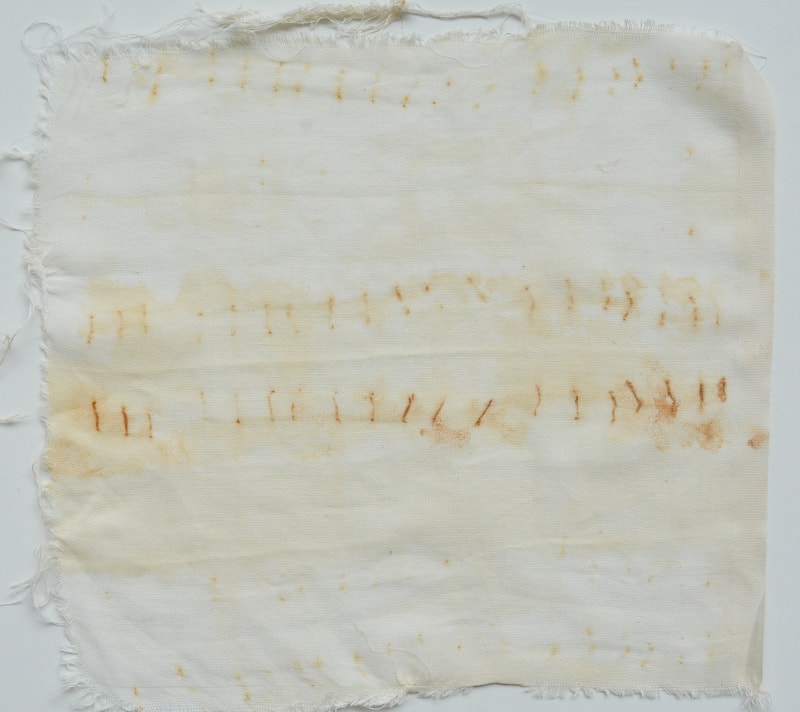 These results were not as controlled as I anticipated but I still love them.
Naturally the next question is what to make with rust dyed fabric? I am thinking slow stitch could be beautiful – a piece of wall art? a rust fabric lampshade?

Related posts: