Last week I was sharing the inspiration my friends flower corsage provoked. She advised me it had been made on a course, and involved two washer taps and three metres of homemade fabric ribbon. Here's my version of the scrap fabric flower tutorial.
This week I have visiting various DIY store to try and find large washer taps.. the result was one 1/2″ and one 1 1/4″ .
Three meters of fabric ribbon were created with a variety of strips of fabric, including transparent  sparkly fabrics. The pieces of fabric are cut to approx 1 cm wide (various lengths) and stitched together with a zigzag stitch. If you have crimping scissors you can add a texture to your strips by cutting with them.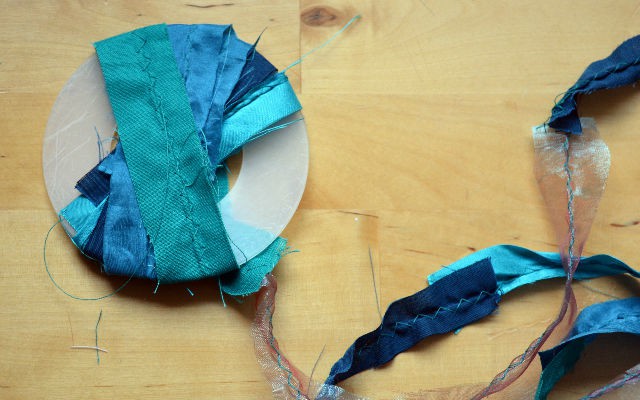 Wrap the homemade ribbon around the washer taps. Stitch through the layer in the middle.. Run small stitches round in a circle to ensure you capture each piece.. either by hand or with the sewing machine.
Cut round the edge of your circles through to the washer tap, and remove the washer.
Stitch the two pieces together and attach a suitable button for the middle of your beautiful flower.
I have added a brooch pin to a red fabric flower, and attached to the finished black cord jacket bag:) I appreciate the brooch is not to everyone's taste as it will fray.. I think this is part of the beauty of it but it is not for neat freaks, no offence meant:)
Why not check out the other lovely makes on this weeks Handmade Harbour, or some of the other tutorials over at Craftori🙂

Related posts:
Inspired my friend Elizabeths flower corsage I have been trawling the internet.. a wonderful place:)
I am planning on making a black cord jacket bag, with red lining. A red corsage would lift the front of the bag:)
10 great fabric flower tutorials


from the lovely Trey and Lucy blog

from the gorgeous Trixie Lixie blog
from this DIY blog
from this crafting blog Sweet Simple Things
From the website Domestically Speaking.. tutorial here
from a wedding blog
A Puffy Flower Hair Pin from Morena's Corner
from Fabric Bows and More, which has a great selection of flowers:)
From the blog I am Momma which has a wide variety of tutorials.
From the website Tally's Treasury, love the fact this uses up little scraps:)
I have yet to find a tutorial for the flower corsage she made, which involved using washer taps in the making process… can you point me in the direction of a tutorial involving washer taps??!
Related posts:
For a bit of fun I decided to see what I could make from the one of those pleated tweed tartan wool skirts, which I traditionally think of older ladies wearing… frustratingly I didn't take a picture before I started!
Naturally I started with unpicking all the seams/darts at which point my daughter begged for me for a skirt in the style of the original skirt.. (I sewed back in the pleats!)
It's not the most pratical skirt for a 5 year old as dry clean only, but I have a suspicion she won't wear it often!
The remaining fabric was felted it in the washing machine (running through on the 90 degree cycle) to create a lovely soft fabric. With my slight current obsession with recycled bags I of course set too and made one:)
I was left with two odd shaped and small pieces of fabric. What next? A small make up bag, pin cushion, flower broach, decorated hair pin, book cover? In the end I decided on projects I have been meaning to make for a while..
The finish on this pincushion recycled jar is far from professional, good job I was not planning on adding them to my Etsy shop then!!
I am far happier with my E-Book cover 🙂
and lastly a flower corsage. What would you make??
I have shared this on Handmade Monday over at Handmade Harbour, why not check out the other lovely items people have added?
Related posts: